Scream VI Directors Suggest Kirby Will Play an Important Roll
In a recent interview, the directors of Scream VI discussed the film's connection to other sequels and Kirby's significant role.
---
Scream VI is entering its promotional cycle, which means there are going to be hardcore fans methodically analyzing each and every detail provided, regardless of how small (sorry, Stu stans, but it's time to come to terms with the fact that he's not returning). That being said, there's been a surprisingly fresh, suspenseful trailer to set the stage for what's to come, along with a few cast stills, character names, posters, and promising insight on what to expect from the next brutal installment of the slasher franchise.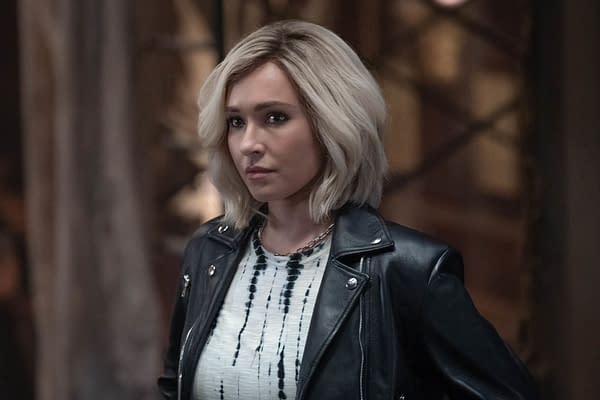 Among the returning survivors is the very iconic film buff Kirby Reed (played by Hayden Panettiere), who's finally set to return after more than a decade of silence and an intentionally ambiguous fate by the master of horror Wes Craven. So, for those of you wondering if Kirby's being incorporated as a glorified cameo or potentially a key player, the team behind the directorial duo of Radio Silence is here to put your mind at ease.
Kirby's Return is an Essential Component of Scream VI
In conversation with the German publication Deadline Magazine, Matt Bettinelli-Olpin (of Radio Silence) responds to Panettiere's return being labeled as "fan service" by sharing, "It's not fan service. Originally, there was the idea of having Kirby appear in a cameo in Scream (2022). That would have been fan service, which we didn't want because we would have done the character an injustice. We have therefore saved her return for Scream 6, in which she is an equal character with everyone else. She has something to do in the film. For us, this means creating a completely new connection to the previous films. Scream 5 was very strongly connected to the first Scream movie, while with Scream 6, we want to make a connection to all movies, including Scream 4."
What makes this particularly exciting (aside from Panettiere's tense performance and knife-sharp wit in Scream 4) is the fact that we're finally getting to see another character from previous Scream sequels outside of the core trio and the new Scream cast.
Now we'll just wait to see if Kirby's a survivor, victim, or donning the Ghostface mask herself because anything (except a Stu revival) seems possible in the next chapter. Scream VI hits theaters on March 10, 2023.