'Scream, Queen! My Nightmare On Elm Street' Doc Drops in March
Nightmare on Elm Street 2: Freddy's Revenge is an interesting film to say the least. After the wild success of the first film, the sequel went in an entirely different direction. It is an important film , that has led to many discussions about queer representation in not just horror, but film in general. In the eye of the Nightmare on Elm Street 2 storm was Mark Patton, who played the role of Jesse. Backlash to the film and the overall tone conveyed by his performance, Patton had left Hollywood for years, his career never taking off. Funny thing about time though, as the film is now appreciated and downright loved for its weirdness and yes, even that shower scene.
The new documentary Scream, Queen! My Nightmare on Elm Street takes a look at the legacy of the film and Patton, and will be available in March on DVD and Digital from Virgil Films. Take a look at the trailer below.
When A NIGHTMARE ON ELM STREET 2: FREDDY'S REVENGE was released in 1985, it wasn't long before people noticed something was just a little different. The sequel's premise of a teenage boy named Jesse (Mark Patton) becoming possessed by Freddy was a departure from the slasher tropes embraced by the original. However, it was the film's homoerotic shower scene, foray into a gay leather bar, and Patton's positioning as a screen queen that raised more than a few eyebrows, and became the main point of discussion when talking about the film for years to come.
Amid backlash and finger-pointing about his sexuality's impact on the film, and the fear of homosexuals and AIDS permeating the culture in the mid-'80s, Mark Patton left Hollywood. Now, more than three decades later, he wants to set the record straight. SCREAM, QUEEN! MY NIGHTMARE ON ELM STREET is a special kind of eye-opening documentary, inviting fans not only to delight in the batshit uniqueness of NOES2, but also asking them to reckon with what it means for the film to exist in the first place.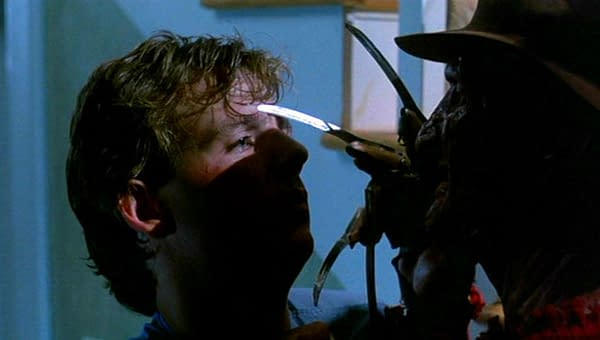 Through interviews with the cast and crew of NOES2, as well as film and queer culture luminaries like Peaches Christ, SCREAM, QUEEN! directors Roman Chimienti and Tyler Jensen are unafraid to revel in the love and fandom that has grown for the film, while also confronting the heartbreaking and challenging realities that are part of its legacy. At the center of it all is Mark Patton, a wonderfully gracious and honest man with an important story who is sure to win the hearts of all.