The Snowman
{{ reviewsOverall }} / 10
Users
(0 votes)
The Snowman is competently shot, but the plot makes zero sense. This tense thriller is lacking both tension and thrills.
Director: Tomas Alfredson
Summary: Detective Harry Hole investigates the disappearance of a woman whose pink scarf is found wrapped around an ominous-looking snowman.
The marketing for The Snowman has been touting a movie where a serial killer is playing cat and mouse with a detective with notes and ominous snowmen. However, that is not the movie rolling into theaters this weekend.
A movie about a serial killer will often spend too much time telling us why this killer has this signature. The Snowman doesn't bother, and that's just one of the many things this movie doesn't bother to do.
When dealing with a serial killer, there should be tension — even more so when the scenes involve him stalking his prey. The scenes we see are boring, and aside from the occasional jump scare, there is zero tension in this thriller. The kills are all telegraphed a mile away and it becomes way too obvious way too soon who the killer is.
The posters and marketing are pushing this movie as some sort of cat and mouse game between Harry Hole (Michael Fassbender) and the killer — but that never happens. There is no letter that says, "you could have saved her, Mister Policeman, you had all the clues." There is not a single murder that Harry could have prevented, because there were never enough clues for anyone to decipher. The movie we thought we were getting never comes forward, and it's somehow even worse than the trailers are making it look.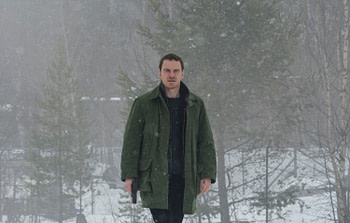 It's not that Tomas Alfredson is a bad director; he made Let The Right One In, after all. It's not that the cast can't act; we have a ton of star power in here including Rebecca Ferguson, J.K. Simmons, Toby Jones, and a nigh unrecognizable Val Kilmer. The setting could make for a chilling atmosphere to a movie. All of the pieces are there, but the meat of the movie, the core, is a script and a story that make no sense. A movie can get by on a lot of bad things, but a bad script when your movie is story-focused? Not one of them.
The Snowman isn't a good movie on any level, besides basic aesthetics — and even that doesn't work all the time. The mystery is boring and makes no sense, the characters never act like human beings, and the tension might as well be nonexistent. Absolutely not worth your time.
What people say... Leave your rating
Order by:
Be the first to leave a review.
Show more