Spider-Man: Into the Spider-Verse – Sony Passed on Mega-Crossover
Sony passed what might be the most meta-moment in superhero film history. Spider-Man: Into the Spider-verse (2018) featured Miles Morales (Shameik Moore) in his first film adaptation as the web-head. It also included others who donned the mask, including Gwen Stacy (Hailee Steinfeld), Spider-Ham (John Mulaney), Peni Parker (Kimiko Glenn), and at least three different versions of Peter Parker. If Chris Miller and his creative staff had their way, there would be three more. A fan asked the producer if he could shed any light on the planned Tom Holland cameo. Holland is the current incarnation of Peter Parker, who also exists in the Marvel Cinematic Universe. Miller went a step further, pitching the gathering of all the modern live-action incarnations to share a scene together with Tobey Maguire from the Sam Raimi trilogy, Andrew Garfield, from Mark Webb's Amazing Spider-Man films and Holland. Miller tweeted Sony felt it was "too soon" for that to happen.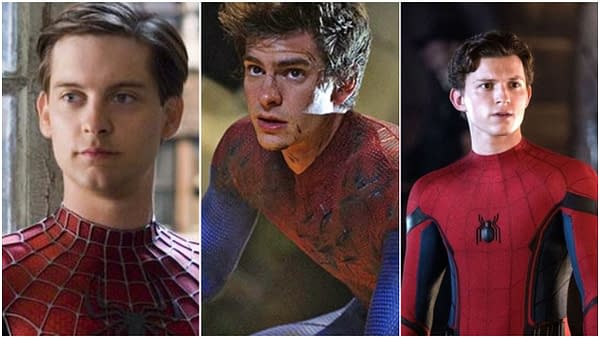 Spider-Man: Into the Spider-Verse Destined for Success
Bob Persichetti, Peter Ramsey, and Rodney Rothman directed the film. Rothman co-wrote the screenplay with Phil Lord. The animated feature was a success for Sony, making $375 million globally at the box office. While it made less than half of its live-action brethren, work on a sequel is in development slated for an October 7, 2022 release. Already announced for the sequel is 1970s Japanese Spider-Man. Into the Spider-verse featured an all-star cast including Jake Johnston, Chris Pine, Mahershala Ali, Brian Tyree Henry, Lily Tomlin, Luna Lauren Velez, Zoë Kravitz, Nicolas Cage, Kathryn Hahn, and Liev Schreiber. With Phase IV still under development, Ali will play his third Marvel character in Blade as the title character. Kravitz plays Catwoman in the upcoming Matt Reeves' film The Batman for DC and Warner Bros. Before playing the intimidating crime boss Kingpin, Schreiber was the thorn at Hugh Jackman's side as Sabretooth in X-Men Origins: Wolverine. If we don't see the sequel for two more years, perhaps Sony will feel it's soon enough for their live-action trio to emerge into the Spider-verse.