Spider-Man: No Way Home: Alfred Molina Confirms His Casting
It seems that either someone didn't tell Alfred Molina about the Marvel Snipers, or he just doesn't care. At the beginning of December 2020, it was leaked that Molina would be returning to the Spider-Man universe in Spider-Man: No Way Home. However, the movie was being kept under wraps, and no one has confirmed anything despite the fact that the movie is due out this year. Marvel loves their secrets, and Molina either doesn't care, or no one told him. Not only did Molina confirm to Variety that he is in the movie, but he did confirm that he'll be playing the Sam Raimi version of the character from the 2004's Spider-Man 2.
"When we were shooting it, we were all under orders not to talk about it, because it was supposed to be some great big secret," Molina said with a laugh during an interview with Variety about his role in the Oscar-nominated "Promising Young Woman." "But, you know, it's all over the internet. I actually described myself as the worst kept secret in Hollywood!"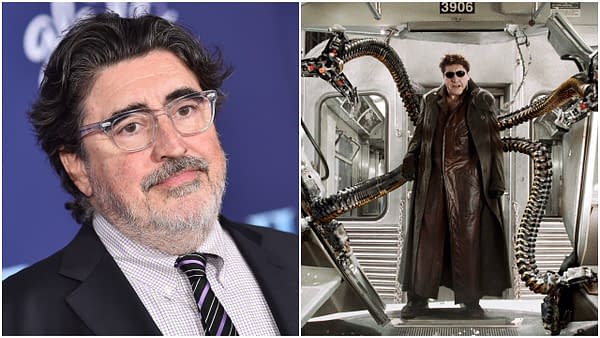 When asked what it was like returning to the role after so many years, Molina said, "It was wonderful. It was very interesting going back after 17 years to play the same role, given that in the intervening years, I now have two chins, a wattle, crow's feet, and a slightly a slightly dodgy lower back." Spider-Man 2 is often cited as one of the best the superhero genre has ever made. Those first two movies doing so well both critically and commercially are part of the reason we have the superhero boom that we have today. However, fans of that movie might remember that Molina's Doc Ock was very dead at the end; Molina said that director Jon Watts explained that, "In this universe, no one really dies." Molina also said that the early talks confirmed that they will pick up Doc Ock's story from that moment in the river in Spider-Man: No Way Home.
Molina, however, was a bit concerned considering it's been seventeen years since that movie came out, but Watts apparently wasn't concerned. They had de-aged Robert Downey Jr. in Captain America: Civil War and Samuel L. Jackson in Captain Marvel. Molina also talked about The Irishman and how they de-aged their character's faces, but movement is a bit harder to fake.
"He just looked at me, and said, 'Did you see what we did to Bob Downey Jr. and Sam Jackson?'" Molina said with a laugh. "They made Robert De Niro's face younger, but when he was fighting, he looked like an older guy. He looked like an old guy! That's what that's what worried me about doing it again. … "I don't have the same physicality that I had 17 years ago. That's just a fact."
Molina then went on to say that, for Doc Ock, the robotic arms were doing most of the work and that he just needed to glower at the camera.
"I then remembered that it's the tentacles that do all the work!" He sat up straight in his seat. "My basic physical move as Doc Ock, as the actor, is just this," he said as he glared intensely at the Zoom camera and made a menacing noise. "I just do that a lot, and the arms are doing all the killing and smashing and breaking. I'm just going —" he glared again — "with a kind of mean look on my face. … It was fantastic."

Now, all we need is for someone to confirm that Jamie Foxx really is in Spider-Man: No Way Home, and we'll know that they are doing a live-action version of Spider-Verse. However, that means it's going to be compared to the animated movie on some level to the animated movie, which is perfection [do not @ me]. This movie is still a ways away, so we'll have to see what ends up happening. We have three Marvel movies to get through before we see this one anyway.
Spider-Man: No Way Home will be directed by Jon Watts, is currently shooting, and has a December 17, 2021 release date, but with COVID-19 throwing a wrench into pretty much everything, that could change.