Star Wars: Rebels – Dave Filoni Says [SPOILERS] Survived the Finale
Popular Star Wars animated show Star Wars: Rebels aired its final three episodes on Monday night. Fans have been wondering how this series would end, since none of the characters were around for the original movies. Would Disney have the guts to pull a Rogue One and kill most off of its main characters in a cartoon aimed at a younger audience? We got our answers last night, and then showrunner Dave Filoni clarified things. These are MAJOR SPOILERS for the finale episodes of Star Wars: Rebels — so if you haven't watched them, step away. .
.
.
.
.
.
.
.
.
.
.
.
.
.
.
The finale shows the group pinned down and Thrawn threatening to destroy the entire city. Ezra turns himself in to avoid that and confronts the Emperor and eventually Thrawn. It seems like Ezra is playing it by ear, but it turns out he is going through with his Plan B. This involved the Purrgil from season 2 episode 'The Call'. The Purrgil break through the windows of Thrawn's ship and pin him down (thus fulfilling the Bendu when it said Thrawn's ultimate defeat would "be many arms wrapped around him in a cold embrace,") and the Purrgil trap the entire ship in their tentacles. Despite all of the windows being open and Ezra suffering a blaster wound and holding Thrawn in place, the Purrgil begin to jump to hyperspace. Ezra vanishes with Thrawn as the Purrgil jump, and both of their fates is unknown.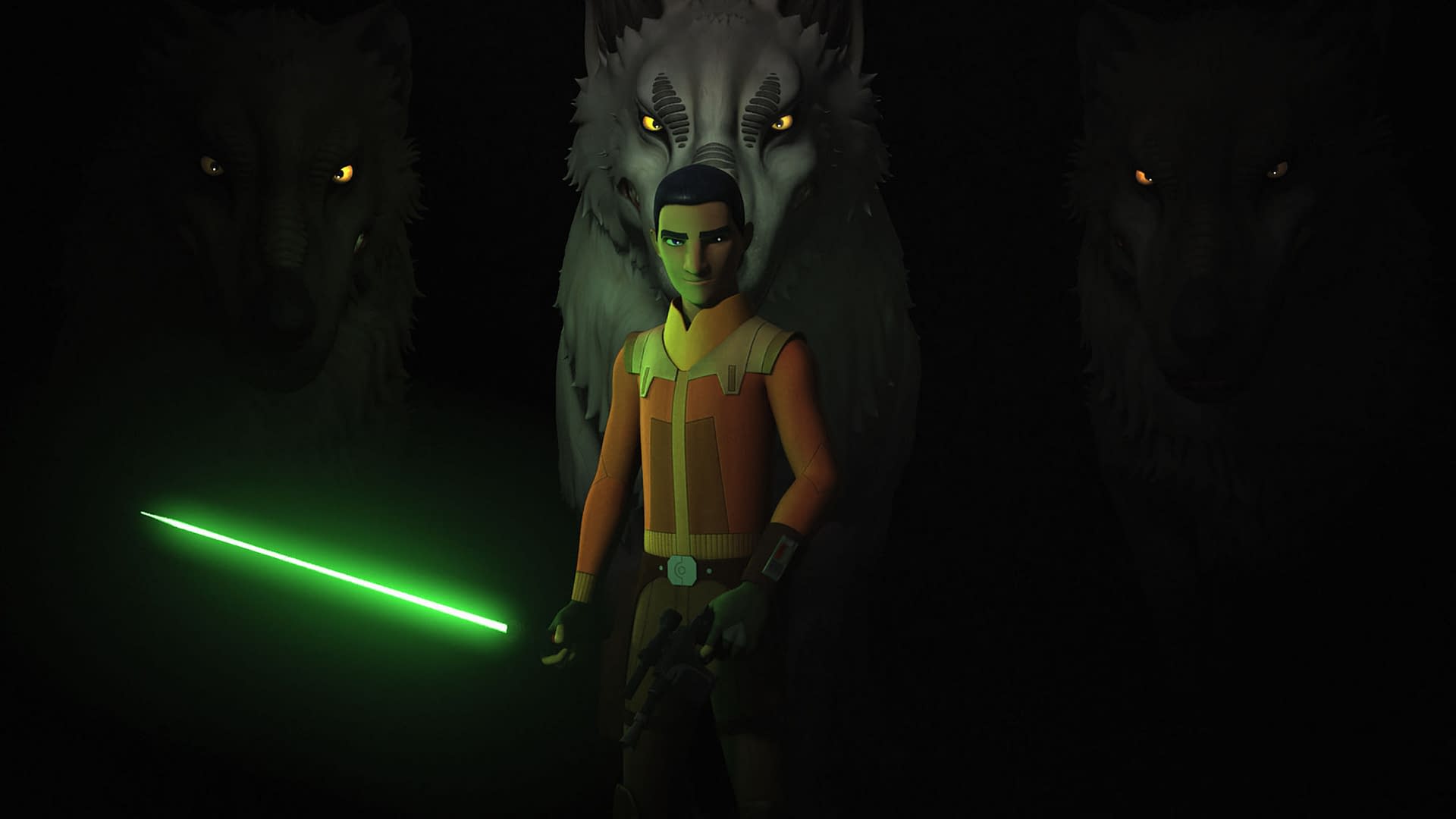 It turns out their fate isn't so unknown if you watched Lucasfilm's aftershow Rebel Recon. There, Filoni straight up said that Ezra and Thrawn are not dead.
I felt a lot about that… It's one of those things that you go "oh boy I love the idea of an end credits scenes" but as tempting as that is but I go "well if I cover that, then I want to do it right" and I don't want to commit to things right now because things might change. So I have a lot of theories about it and what I think happens and where they are. I'll say this much, they're not dead. Both of them survive, both Ezra and Thrawn I would say survive it.
So where does this leave us? We know that Sabine lived through the entire trilogy — she was the protector of Lothal, and at the end of the series, when the war is over, she goes with Ahsoka (who also lived through the entire trilogy) to find him. Is that the premise for the next show? Only Filoni knows what's next on the horizon. If this tweet is anything to go by, he's bringing some or most of the crew from Rebels onto his next project.
Summary: A brave and clever ragtag starship crew stands up against the evil Empire as it tightens its grip on the galaxy and hunts down the last of the Jedi Knights.
Star Wars Rebels, created by Simon Kinberg, Carrie Beck, and Dave Filoni, stars Taylor Gray, Freddie Prinze Jr., Vanessa Marshall, Steve Blum, and Tiya Sircar.