Star Wars: Rebels Season 4 is out of the gate and as it comes to a close there are some major questions that need to be cleared up. Most of that comes down to where were these people during the original trilogy. io9 recently talked to one of the creators of Rebels, Dave Filoni, and he spoke about the three big questions that they need to address.
The first one is the fact that Kanan and Ezra are force wielders and there aren't a lot of those running around in the original trilogy.
"I will say just explaining Ezra's past and what happens to him and Kanan is a big one," Filoni said. "Because people have been all over that, seeing as they don't see many force wielders in A New Hope."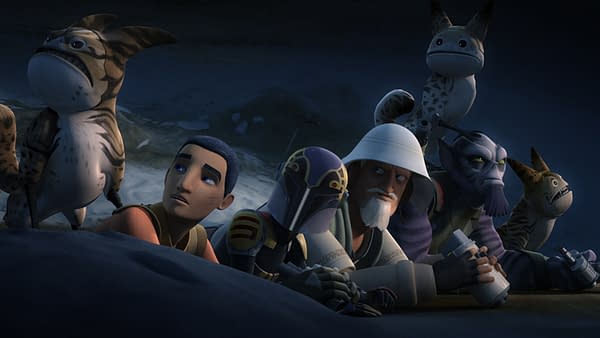 Next, there's Thrawn, who is a major player in the Empire and fan favorite character.
"We brought Thrawn into the picture, so we have to answer questions about him," Filoni added.
Finally, this is the one people have been asking since the end of season two, what happened to Ahsoka?
"And I would say, just because it's been a constant question that I've gotten, people keep wondering what happens to a character like Ahsoka," he said. "I would say that all of these things are on the table this season, because you try to answer all those things in the course of the series," Filoni continued. "So we tried to really bring all those answers to bear, whether people would like the answer or not, because it's got to be contained within this story. So all those things were on the table going into this season."
There is nothing worse than a show that ends with a bunch of dangling plot threads. Since Filoni is being given the opportunity to end the show on his terms with Star Wars: Rebels Season 4, then it stands to reason he knows what threads need to be addressed.
A brave and clever ragtag starship crew stands up against the evil Empire as it tightens its grip on the galaxy and hunts down the last of the Jedi Knights.
Star Wars Rebels, created by Simon Kinberg, Carrie Beck, and Dave Filoni, stars Taylor Gray, Freddie Prinze Jr., Vanessa Marshall, Steve Blum, and Tiya Sircar. It airs on Mondays at 9PM EST on Disney XD.
Enjoyed this article? Share it!