"Ghostbusters: Afterlife": Bill Murray, Jason Reitman Define Franchise for Generations
The gang is back together again to pass the torch again to the next generation in Jason Reitman's Ghostbusters: Afterlife. Despite the mixed response of the all-female 2016 Paul Feig-directed soft-reboot, the 2020 film serves as a true sequel to the Ghostbusters franchise. Bill Murray, who played Dr. Peter Venkman since the 1984 original Ghostbusters, spoke with Vanity Fair about Afterlife.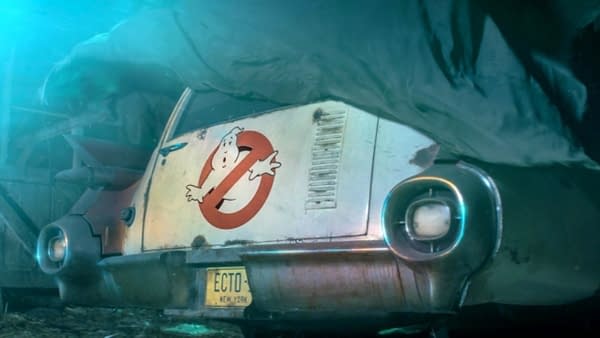 The proton pack Murray wore annoyed him when shooting the first film.
"When you put that gear on, it's so uncomfortable. It's so heavy, just to stand there with that weight on your back, tilting your spine. And we wore them for a long time."
Murray joins returning cast members Dan Aykroyd, Ernie Hudson, Sigourney Weaver, and Annie Potts. All reprise their roles as Ray Stantz, Winston Zeddemore, Dana Barrett, and Janine Melnitz, respectively. All made cameos in the 2016 film as original characters. The only cast member who hasn't returned is Rick Moranis, who played Louis Tulley in the 1984 film and 1989 sequel.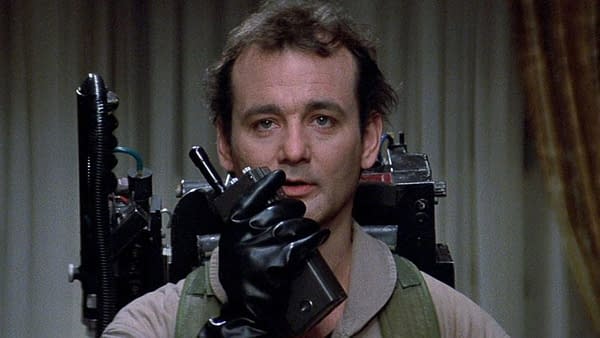 Explaining Harold Ramis' Absence
Also missing from the recent films is Harold Ramis, who played Egon Spengler. He co-wrote the 1984 film with Aykroyd. Unfortunately passing in 2014, he was able to lend his voice for a reunion in the form of 2009's Ghostbusters: The Video Game sans Weaver and Moranis. The film will explain Egon's absence.
"Well, we're a man down. That's the deal and that's the story that we're telling, that's the story they've written."
Jason Reitman's father Ivan Reitman directed the first two films. Jason also co-wrote the screenplay with Gil Kenan. Ghostbusters: Afterlife takes the story outside the urban setting into a farmhouse in Oklahoma with a single mother Callie (Carrie Coon) and her two kids, Trevor (Finn Wolfhard) and Phoebe (McKenna Grace).
Link to the 1984 Film
An old nearby mine bears the name of Ivo Shandor, the architect behind the Manhattan apartment complex from the 1984 film. Paul Rudd plays a local teacher who's documenting the strange phenomena while bonding with Callie, Trevor, and Phoebe. The story takes place 36 years after the original. Jason Reitman said he wanted to capture what happens when those discover their roots.
"Before I ever thought I could make a Ghostbusters film, the image of a 12-year-old girl carrying a proton pack popped into my head and just wouldn't leave. Eventually, I knew who she was. I'm floored by the idea of what it would be like to find a proton pack in your grandparents' basement. What would that discovery reveal about who you are and what adventures you're about to go on?"
Despite the backlash of the 2016, Reitman wanted to retain the idea anyone can be a Ghostbuster. Taking up his father's mantle on the franchise, he's well aware of the pressure.
"If I think about who I'm making this movie for, it's my father. We all know what it's like to be told stories by our parents. I'm really honored to get a chance to tell one back to him from the world he brought to life."
The third Ghostbusters was always in the back of Aykroyd's mind, but among the factors was Murray's uncertainty given his past feelings with how Ghostbusters II underperformed.
"The script [for Afterlife] is good. It's got lots of emotion in it. It's got lots of family in it, with through lines that are really interesting. It's gonna work."
Ghostbusters: Afterlife comes to theaters on July 10.
.