"Star Wars Rebels" Ship The Ghost in Trailer for "Star Wars: Rise of the Resistance"
The Star Wars galaxy has become more interconnected since the acquisition of Lucasfilm by Disney. Characters from one part of the franchise appear frequently, making cameos that helps to weave a cohesive storyline among the movies, television, games, and books.
Now that we have the final trailer for Star Wars: The Rise of Skywalker, another example of the stellar work that the Lucasfilm Story Group does in making the galaxy feel monolithic: it appears that a VCX-100 is sitting just off the starboard of the Millenium Falcon in the short clip released as a teaser before the trailer premiere.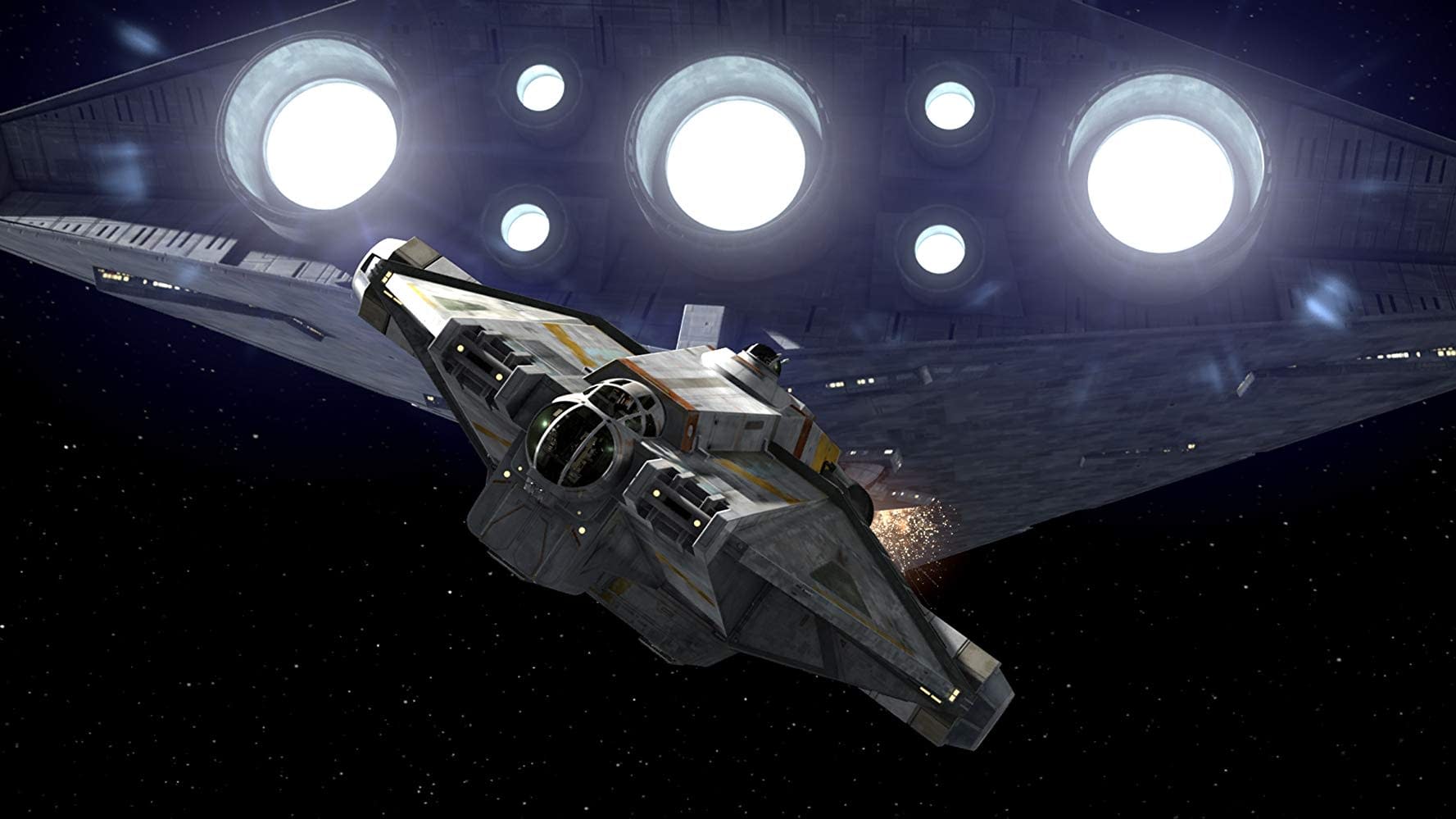 Why is that important? It's not because Han bluffs his way into a game of Sabaac to try to win the Falcon from Lando Calrissian in the criminally underappreciated Solo: A Star Wars Story. It's the speculation that this particular VCX-100 might just be The Ghost, the famed ship of the Spectres cell of the rebellion. As pointed out by Germain Lussier of io9, this represents the latest big cameo for the upcoming movie.
Here's the clip. The VCX in question shows up on the right of the screen.
Featured primarily in the Disney XD animated series Star Wars Rebels, the Ghost is piloted by Hera Syndulla. The Ghost shows up a couple of times in Rogue One: A Star Wars Story. It's known that she and The Ghost survived the Battle of Endor and eventually joined the New Republic. As detailed in the June 2019 book Star Wars: Alphabet Squadron, now General Syndulla worked with the aforementioned squadron to track down the 204th Imperial Fighter Wing, a destructive remnant of the Empire that continued to rain down death after the death of Emperor Palpatine. It's easy to connect the dots from there, thinking that if there's a showdown with this many Resistance ships, the general might just want to be there at the vanguard along with the Falcon.
Star Wars: The Rise of Skywalker debuts in theaters on December 20 and tickets are now on sale.