'Star Wars: Rise of Skywalker': Dark Rey Was "Fun to Play" Says Daisy Ridley
Star Wars: The Rise of Skywalker is out in a little over a month, and the cast is making the rounds for the beginning of the promotional push. By far one of the most talked about images we have seen from the film so far was when Rey (Daisy Ridley) is shown in a dark robe, with a red, hinged, double bladed lightsaber. This implies that we at least get a glimpse at a Dark Side Rey in the film. Ridley spoke on that to gathered journalists: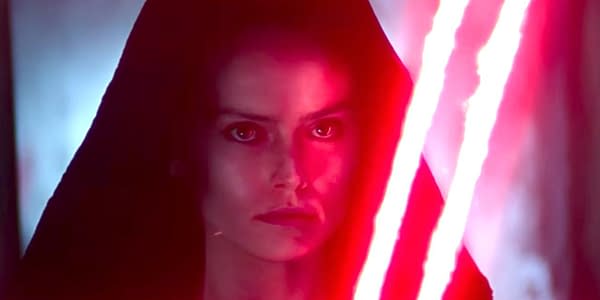 "It's fun to play someone's best version, and then the worst," Daisy Ridley told Adoro Cinema and other journalists in Los Angeles. "It's an amazing thing to do as an actress, but we can't do it often. … I felt very good. That's the most I can say, unfortunately."
Ridley also went on to talk about a scene in the new Star Wars film that brought out the emotional heft for everyone on hand while it was filmed"
"There was a scene that touched me a lot," Ridley said. "It was our last day shooting in Jordan and the natural light was fading. And it was so exciting. It was just a short scene, we filmed very fast, but the crew was shaken in a way I had not seen before. And I thought, 'My God, if this is people's immediate reaction when the scene isn't even ready, imagine what it will be like to see it in the movies, with the John Williams soundtrack and all that.'"
Wonder what that was…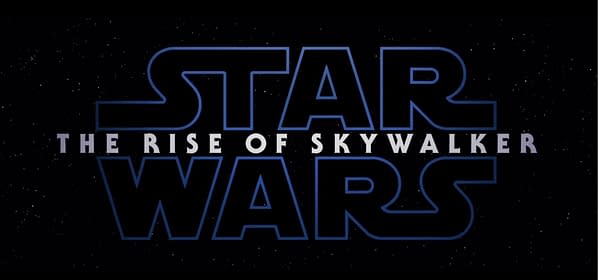 Star Wars: The Rise of Skywalker, starring Carrie Fisher, Daisy Ridley, Adam Driver, John Boyega, Oscar Isaac, Lupita Nyong'o, Domhnall Gleeson, Kelly Marie Tran, Joonas Suotamo, Billie Lourd, Naomi Ackie, Richard E. Grant, Keri Russell, Mark Hamill, Anthony Daniels, and Billy Dee Williams, directed by J.J. Abrams, opens on December 20th.