Teaser for Tommy Wiseau's 'Big Shark Movie' Hits. What. Even.
Filmmaker Tommy Wiseau has a new movie coming soon, and he treated a The Room audience at London's Prince Charles Theatre to a teaser for his next feature.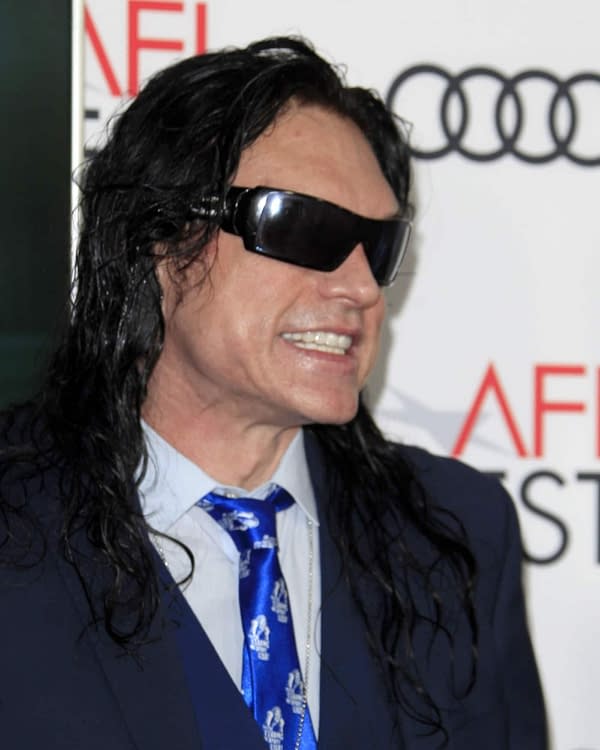 It's a shark movie. A Big Shark Movie.
German website Film Futter is who altered the interwebs, and Bloody Disgusting reader Mathias Bohner described the introduction by Wiseau as well as the footage:
"The teaser starts off with Patrick, played by Tommy Wiseau, who introduces his friends Tim (Isaiah LaBorde) and Georgie (Greg Sestero) to two women at a restaurant. In the next scene one of the women calls Sestero's character a jerk and both slap him. His buddies laugh at him and he laughs it off. In the following scene they are walking back to their car when they see water at their feet running through the streets. After a cut they are already up to their hips in the water and in the background a large badly animated shark consumes its victim. After that the shark goes for the trio and they try to run away. The title card comes on, after which the shot of the CG shark swimming towards the camera and snapping is repeated multiple times."
The outlet goes on to say that The Room, Best F(r)iends co-star Greg Sestero was in attendance as well. Sestero further expanded upon the story, saying it's about three firefighters who go on to save the world, presumably from said killer shark. The hope is for the film to shoot sometime this year, and that the teaser appeared to be tied more towards financiers. They also promised to premiere the movie at Prince Charles Theatre.
We'll let you know what we hear about this project.
Oh, hai shark.