Doctor Who: World Enough And Time – you may see the twists coming. In fact, odds are you will. But this still makes for a belter of an episode and the best penultimate episode of a Doctor Who series since, well, okay, probably the last one, Heaven Sent, but still. It's a belter of a story. Seven days is far too long.
1. The Regeneration Game It begins as it ends, The Doctor regenerating, We've had one fake out already this series, would they do a second? If not, next week we will have a new Doctor Who. And, yes, that is his name. Looks like WOTAN was right all those years ago.
When the Ninth regenerated, it was self-sacrificial. Ten didn't want to go. Eleven was resigned to it, slightly excited. Twelve is screaming out about the possibility. Hopefully, it will save him the bother of getting a haircut.
Will it actually happen next week? Will they keep it for Christmas? Will you know exactly who – or what – the Doctor will be? Or will they manage to press pause?
2. There's No Kind Of Atmosphere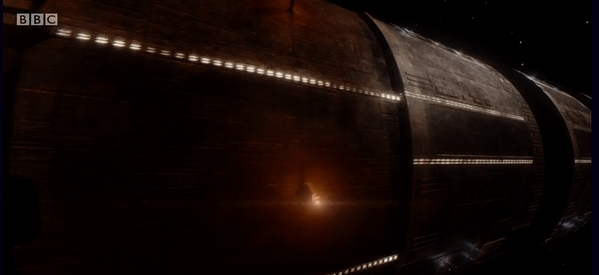 Was I the only one expecting an astronaut cleaning down the outside of this ship? Very Red Dwarf don't you think? They've done plenty of Black Hole physics tricks before, but Doctor Who commits to the time dilation effect admirably. Star Trek did the whole civilisation below, watchers above, but this adds a gothic horror mix or real abandonment for Bill, not just abandoned by the Doctor but by reality itself. No wonder they dialed down the Nardole…
But did you see through the other windows in the ship? The large cornfield? Also waiting for colonists? Rather speaks to the second episode of this series, doesn't it?
3. The Parody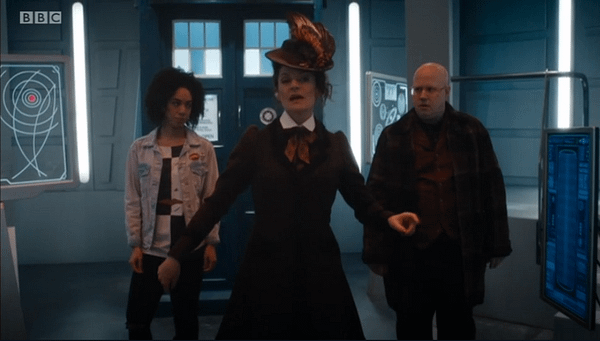 "I'm Doctor Who – this is exposition, this is comic relief" – a paint by numbers version of the Doctor, as seen from the outside is a refreshing one. Missy is just a casual watcher of Doctor Who, no wonder she missed the truth about Mister Razor.
4. Death Becomes Her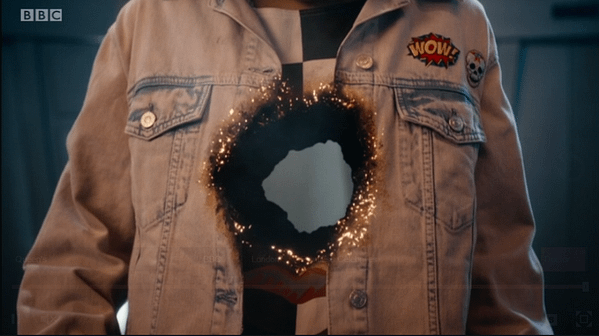 The Doctor is dying. Bill has been marked for death. And the Doctor's promises to keep her safe seem suddenly very empty. Even her own jacket badge is shocked by this turn of events.
5. When Did You Twig?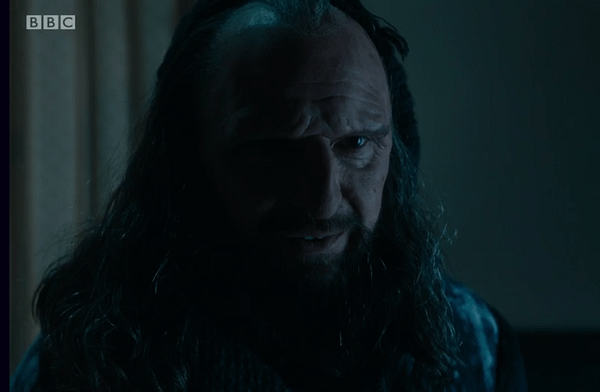 Okay, I managed to miss it through the hiding scene, in the shadows, but in his own workspace it was clear. Moffat made this work a little better in Sherlock hiding someone not once but twice in plain sight for whole episodes. But maybe the teasers and trailers gave away too much, I think I would have twigged that smile anyway. But the good lady wife made it through to the Mission Impossible reveal without twigging at all.
You know, this is one of those things that make it better to watch when spoiled.
6. Carry On Cybermatron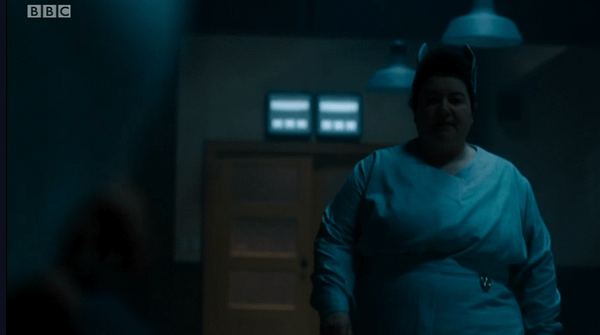 Though I wouldn't have minded him doing a Kenneth Williams rather than a Fagin impression. But yes, we have the dominating matron figure for the Patients, without concern for their humanity. Or Mondasity.
7. Time And Relative Morality In Space

The Doctor starts with mentioning the bacon sandwich having a mummy and a daddy. And gives us people being converted into Cybermen, screaming in pain with the volume on their Speak And Spell turned down. All for the good of the species, it seems. The Cybermen origin now defined in the Doctor Who universe, rather than some parallel version, from the depths of the hospital in a dying world that exists by accident, with the Master right as its very origin.
And yes, evil is a bit clever isn't it?
8. Take Away The Pain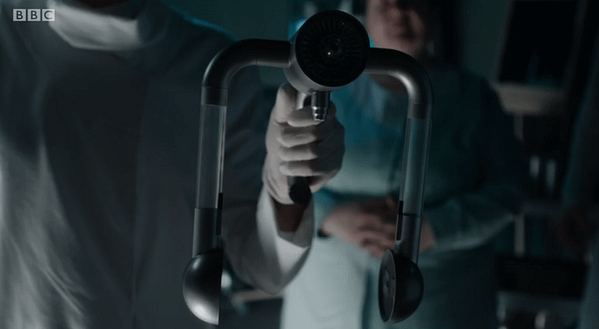 The references came thick and fast, the classic Cyberman described as a vending machine. Mondas being a twin planet of Earth. And those tear duct eyedrops from classic Cyberman right to Bill's crying eye… somewhere. Looks like everyone is changing their body this week. But even Venusian Aikido got a mention. And Genesis Of The Cybermen does rather recall a certain Genesis Of The Daleks. And, yes, the Master often disguised himself back in the day, burning through regenerations in the process.
9. The Moment Has Been Prepared For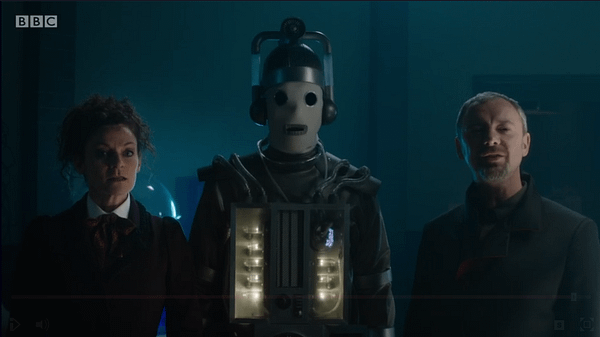 Had we but world enough and time,

This coyness, lady, were no crime.

We would sit down, and think which way

To walk, and pass our long love's day – Andrew Marvell's To His Coy Mistress.
The Doctor talks about the gender game with Bill, and the fluidity possibilities of being a Time Lord. It's certainly less of an issue of The Master, more concerned with Missy's possible new mission in life. And why doesn't Missy remember creating the Mondasian Cybermen or converting Bill? They do look well together, don't they?
10. Paying The Bill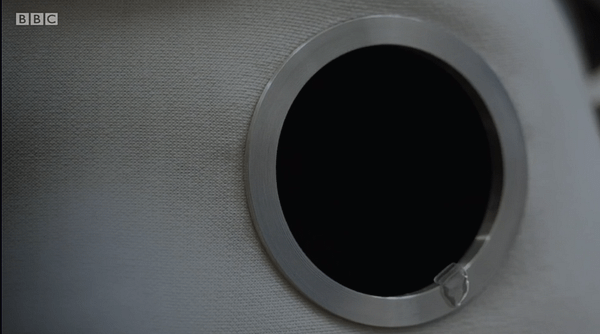 Will next week's episode give us Bill's Mother? Somehow looking back at her humanity? The Doctor was in that photo after all, wasn't he? Somehow that has to wrap round…
So Bill would recognise The Master as Prime Minister Saxon – but in previous episodes might not have been au fait with the constant alien invasion of the Earth? Wouldn't she have known the Cybermen from the time of the ghosts?
Seven days…
Enjoyed this article? Share it!