Good news for fans of the James Cameron Terminator franchise, as Paramount announced Terminator: Dark Fate (the re-canonized third film of the franchise) will be rated R – and will include a familiar face when it premieres on November 1, 2019. The ratings announcement came during the film's panel at this year's Comic-Con International: San Diego (SDCC) – where it was also revealed that Edward Furlong would be returning to the role of John Connor.
But let's start with the rating, which harkens back to 1991's franchise blockbuster Terminator 2:Judgement Day, which was directed by Cameron and a resound box office success grossing $523.7 million at the box office – with an R rating.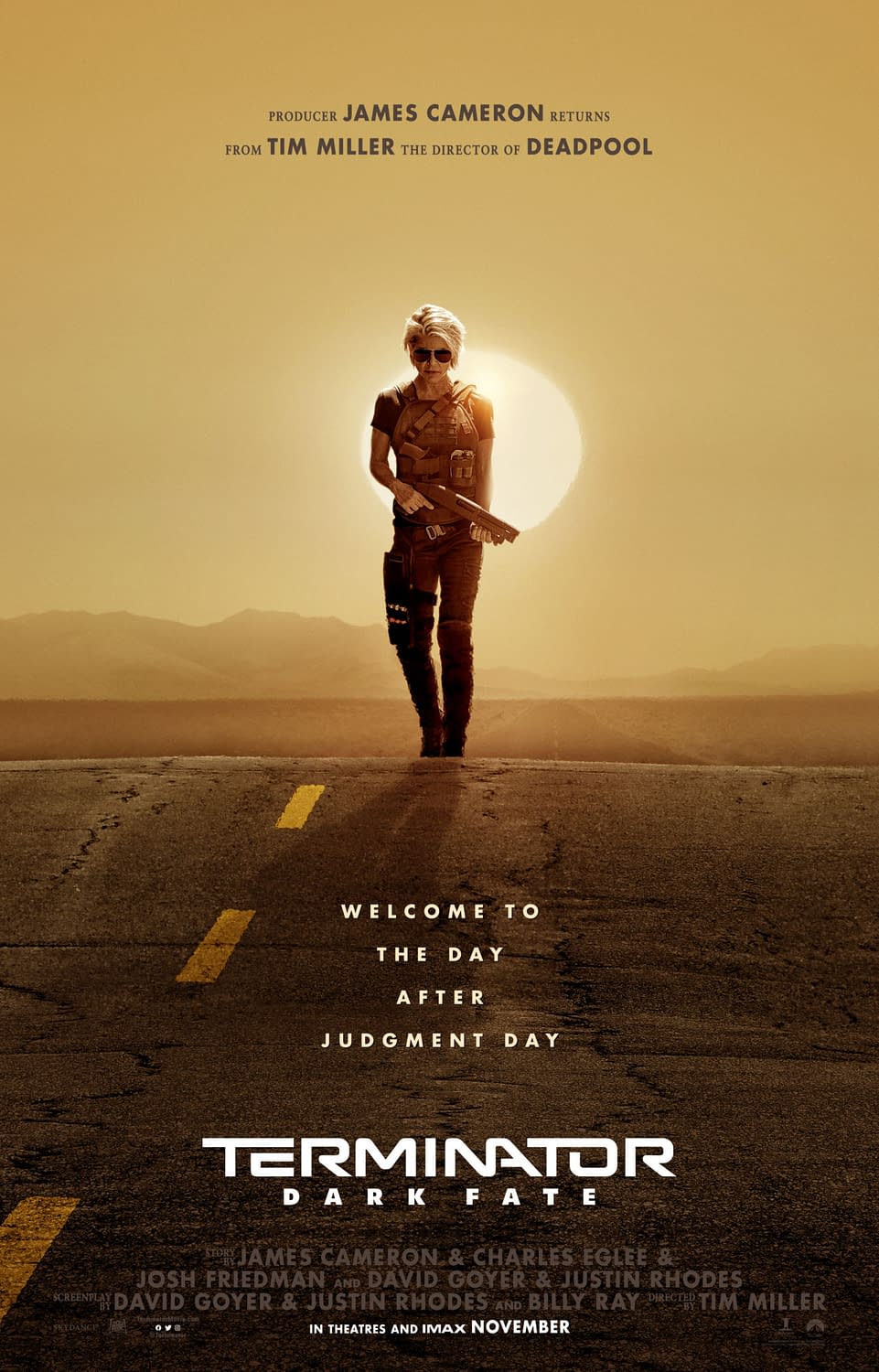 While fans have every reason to believe that an R-rating is a step in the right direction, they should also be cautious: let's not forget about Fox's universally panned It's a Good Day to Die Hard, which did return the franchise to its grittier roots… just not in a good way.
With rights reverting back to Cameron, franchise star Linda Hamilton returning as Sarah Connor, and Deadpool director Tim Miller at the helm, David Goyer, Justin Rhodes, and Bill Ray provide the screenplay. What this films means is that the franchise has "uncanonized" all the previous sequels after T2, including: Terminator 3: Rise of the Machines, Terminator: Salvation, and Terminator: Genisys.
Cameron returns to write the story alongside Goyer, Rhodes, Charles Eglee, and Josh Friedman.
27 years after the events of Terminator 2: Judgment Day, a new, modified liquid metal Terminator (Gabriel Luna) is sent from the future by Skynet in order to terminate Dani Ramos (Natalia Reyes), a hybrid cyborg human (Mackenzie Davis), and her friends. Sarah Connor comes to their aid, as well as the original Terminator, for a fight for the future.
Terminator: Dark Fate stars Arnold Schwarzenegger, Hamilton, Mackenzie Davis, Natalia Reyes, Gabriel Luna, Diego Boneta, and Furlong as John Connor. Furlong returns to the franchise after T2 – though several other actors have taken on the role: Nick Stahl, Christian Bale, and Jason Clarke playing the role previous sequels.
Terminator: Dark Fate comes to theaters on November 1, 2019.
Enjoyed this article? Share it!