Tessa Thompson Thinks Marvel's Next Phase Is "Women Rule Supreme"
Tessa Thompson, Thor: Ragnarok's Valkyrie, has some pretty fabulous and bold words for what she thinks Marvel's next film phase is going to be.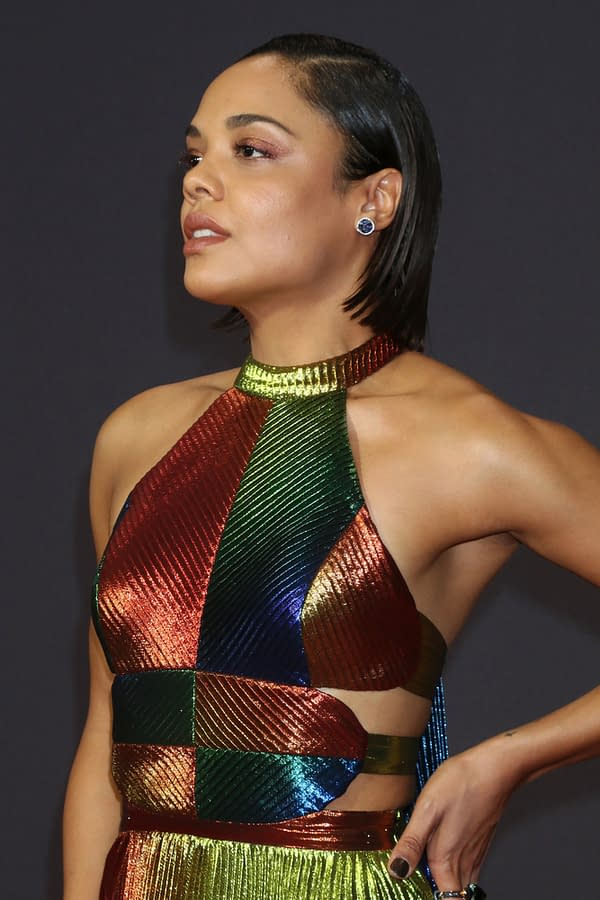 Tessa spoke to Entertainment Tonight on the purple carpet during Monday's Black Panther world premiere in Los Angeles and she spoke a little bit about everything. She touched on Black Panther director Ryan Coogler (who she worked with in the critically acclaimed film Creed), the importance of representation of both women and people of color, and the future of her character (and other notable female characters) in the next phase of Marvel's Cinematic Universe.
"I think with Creed – and I'm partial – but it really showed the emergence of such an important incredible filmmaker in the form of Ryan Coogler. So to get to see him take on this material, this epic material, is fantastic

It's important for the culture. It's important to me. I think it's no mistake that folks like Snoop Dogg are here. It's important culturally to us that we get to see representation, that we get to see ourselves reflected on screen in this way, but also it's just primed to be a fantastic movie. It's good for all of us and I think the fact it's been the most pre-sold movie in Marvel history speaks to the fact that it's not just for us, it's for everybody.

In this film, there are all these incredible women in the form of Angela Bassett and Lupita [Nyong'o] and Danai [Gurira]. We're going to see Brie Larson and her stand alone with Dewanda Wise, who is also here tonight, doing Captain Marvel. We'll see what happens with Valkyrie next, but yeah, the women rule supreme; they always have. But I think we'll see in the next phase that really translate on screen in a real way."
Her interview portion was adorably interrupted when Thompson fangirled over seeing Snoop Dogg on the carpet.
You can see the ET segment with Thompson here: