Well, at least it's not a direct reboot or retelling, but that in-the-works Warner Bros. Willy Wonka film is still happening. Reportedly, this version will be a 'prequel', telling the story of how Wonka got to where he is when we first meet him film-wise in Willy Wonka and the Chocolate Factory.
According to our friends over at Collider, Fantastic Beasts producer David Heyman had some things to say about the project:
"We are still trying to figure out how to tell that story, what the story is. It's a prequel, it's not a sequel. What makes Willy—when we find him at the chocolate factory doing the golden ticket, where is he before that? What leads him to that place where he's locked himself away?… It's how does he get there? So we're playing around with that."
If you'll recall, Collider is also who broke the news (then rumor, and still not confirmed, really) that Donald Glover and Ryan Gosling were WB's early top picks to play the top-hatted candyman.
The outlet goes on to say that Heyman "hopes" to have Paul King direct Willy Wonka, but that King is currently tied up directing Guillermo del Toro's stop-motion musical adaptation of Pinocchio.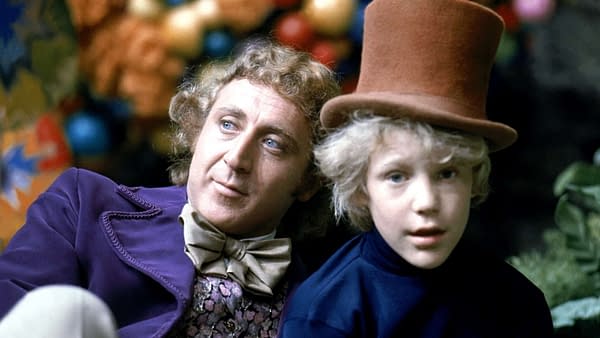 We'll let you know when we hear anything else about this project, until then though, lets watch the classic Gene Wilder version[easyazon_link identifier="B0021L9MO6" locale="US" tag="bleedingcoo07-20"]Willy Wonka & the Chocolate Factory (Blu-ray Book Packaging)[/easyazon_link].
Enjoyed this article? Share it!