The Conjuring May End With Part Four, Says James Wan
The Conjuring has a fourth film currently in development, and it may be the last. Producer James Wan is deep in talks to partner up with Jason Blum's Blumhouse at Universal, and The Conjuring universe is set up at WB, so you can see where there may be issues there, though Wan has said that the deal won't affect that relationship. Nevertheless, in a new chat with Collider, while promoting M3gan, Wan let it slip that the fourth Conjuring film could be the last.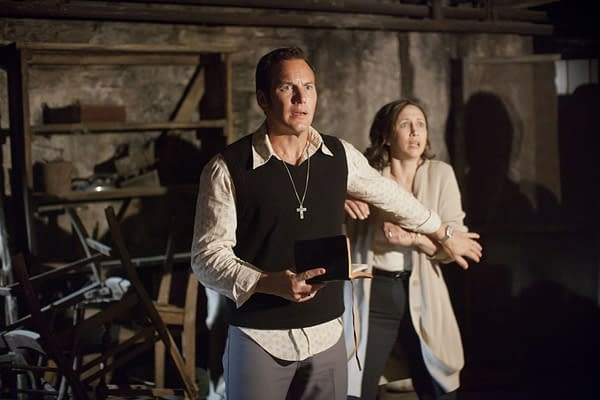 The Conjuring Without James Wan Involved?
"Yeah, we are working on it right now. With the Conjuring films, we are very precious about [them]. And so we kind of want to just take our time to make sure we get it right and to make sure the emotion of the Warren stories that we want to tell, and moving into, and potentially wrapping up, we just want to make sure that it's the right thing, the right story that we're telling. We never know. You never know. We'll see." Could Warner Bro. move on with the universe without Wan? He hasn't directed a film in the franchise since The Conjuring Part Two, and the spin-offs have been more successful than the original series. It should be interesting to watch.
The franchise has combined to gross over $2 billion at the box office, making it one of the most successful franchises, period, let alone in the genre of horror. To think that WB would just say goodbye to one of their biggest box office franchises, especially since the last two years have proven that the safest bet in Hollywood is to release horror films. Maybe the future is just more Annabelle, Nun, and more, and The Conjuring proper is all that goes away. We shall see. The Conjuring 4 has no release date.