The Working Title for Star Wars: Episode IX Has Been Revealed as 'Black Diamond'
Now that Star Wars: The Last Jedi has come out, people are already talking about Episode IX. The next movie in this trilogy has been marred by two major shake-ups. The first one is that this film, even more so after seeing The Last Jedi, was supposed to be Leia's movie before Carrie Fisher passed away. Then in September, director Colin Trevorrow was let go and replaced with J.J. Abrams. We know precious little about what Episode IX will be, but now we might have a working title.
A working title is an alias that a movie shoots under to avoid drawing crowds, and they usually have some sort of reference to the movie itself. Star Wars has a history with this, as revealed when the Han Solo movie started filming. Red Cup, or a Red Solo Cup, is the reference.
Now we might have a hint to what the filming title for Episode IX could be. Fantha Tracks, a site that helped break the working title for The Force Awakens with the help of Bleeding Cool and Making Star Wars, looks like it has a lead as to what this next working title will be.
Fantha Tracks can exclusively reveal that Episode IX is being produced under the business name of Carbonado Industries (UK) Ltd. A business first intended for the Solo production – for obvious carbon freezing reasons. The working title for Episode IX will be Black Diamond – the common name of Carbonado.
A quick pop over to Wikipedia points us in this direction.
Carbonado, commonly known as the "black diamond", is the toughest form of natural diamond. It is an impure form of polycrystalline diamond consisting of diamond, graphite, and amorphous carbon. It is found primarily in alluvial deposits in the Central African Republic and in Brazil. Its natural colour is black or dark grey, and it is more porous than other diamonds.
A quick look around the Wikipedia page brings up a word we have heard spoken in Star Wars before.
Carbonado exhibits strong luminescence (photoluminescence and cathodoluminescence) induced by nitrogen and by vacancies existing in the crystal lattice. Luminescence halos are present around radioactive inclusions, and it is suggested that the radiation damage occurred after formation of the carbonados, an observation perhaps pertinent to the radiation hypothesis listed below.
That word comes from a quote that Yoda says to Luke during The Empire Strikes Back:
"For my ally is the Force. And a powerful ally it is. Life creates it, makes it grow. Its energy surrounds us and binds us. Luminous beings are we, not this crude matter. You must feel the Force around you. Here, between you, me, the tree, the rock, everywhere! Yes, even between the land and the ship."
So there is the issue of the timeline. As previous stated this is a movie that has been in development for years but has gone through considerable changes. We did a bit of digging on the place where a lot of leaks tend to happen; LinkedIn. Our Rich Johnston was able to track down the profile of a young man named Andrew Johnson, and this is what he has listed on his account: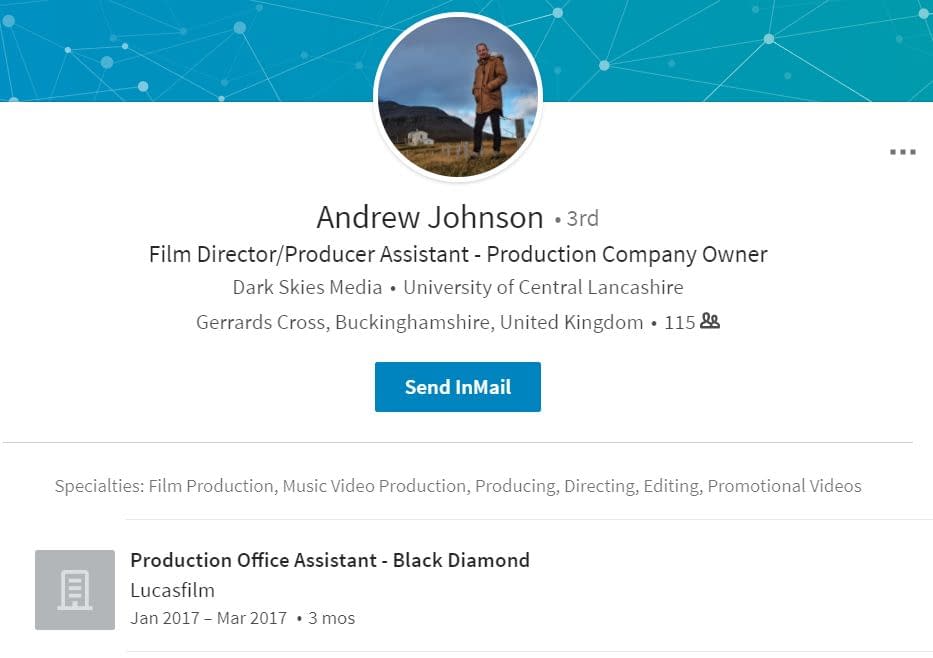 The timeline is listed as early this year, but as previously stated, regardless of the shake-ups, this movie has been in development for years. It makes sense that they would be talking about it a year ago when this movie was supposed to go into production in January 2018.
All of this is far from definitive, but the evidence very strongly points to this being the working title for the next Star Wars movie.
Luminous beings are we, indeed.