The Goonies Gets A Huge 4K Blu-ray Set From Warner Bros.
The Goonies is getting a new, pretty epic 4K Blu-ray release this fall. The 1985 Richard Donner classic will come out in a special box set edition as well as a single release. The box set will include a map, a patch, buttons, and will come housed in a treasure chest box. The release will include a 4K disc and a regular Blu-ray, along with a digital code for the film. The Goonies 4K release special features have not been revealed yet, but with a release date of September 1st, the list should be revealed soon. For no, check out the box set and cover for the release below.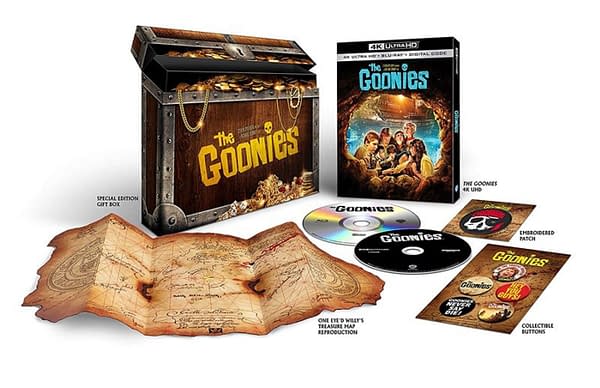 The Goonies 4K Box Set Details
"From the imagination of Steven Spielberg, The Goonies plunges a band of small heroes into a swashbuckling surprise-around-every corner quest beyond their wildest dreams! Following a mysterious treasure map into a spectacular underground realm of twisting passages, outrageous booby-traps and a long-lost pirate ship full of golden doubloons, the kids race to stay one step ahead of a family of bumbling bad guys…and a mild mannered monster with a face only a mother could love. A family adventure classic from start to buccaneering finish, The Goonies is a cinematic treasure trove of breathtaking action, dazzling effects and shiver-yer-timbers thrills."
Personally, I hate this film. Controversial I know, but I didn't see it until I was in my twenties, and by then, whatever charm it may have held over me was not there. I have always been more of a Monster Squad guy myself. That is not to say that anyone who is excited for this release of The Goonies is wrong for being excited, or liking the movie. I just don't get it. Anyway, if this is one you want, look for it on September 1st.