Ripley's 'Alien' Space Suit Goes for $204k, 'Aliens' Flamethrower for $108k
Ellen Ripley (played by Sigourney Weaver) is perhaps the greatest female character in all of science fiction history. First appearing in Sir Ridley Scott's seminal 1979 film Alien, she returned to head three additional films in the space franchise.
Two items of Ripley's were up at auction today during Profiles In History's Icons & Legends In Hollywood, and both fetched pretty hefty sums. The first was Ripley's spacesuit from Alien, which went for $204,800 (USD).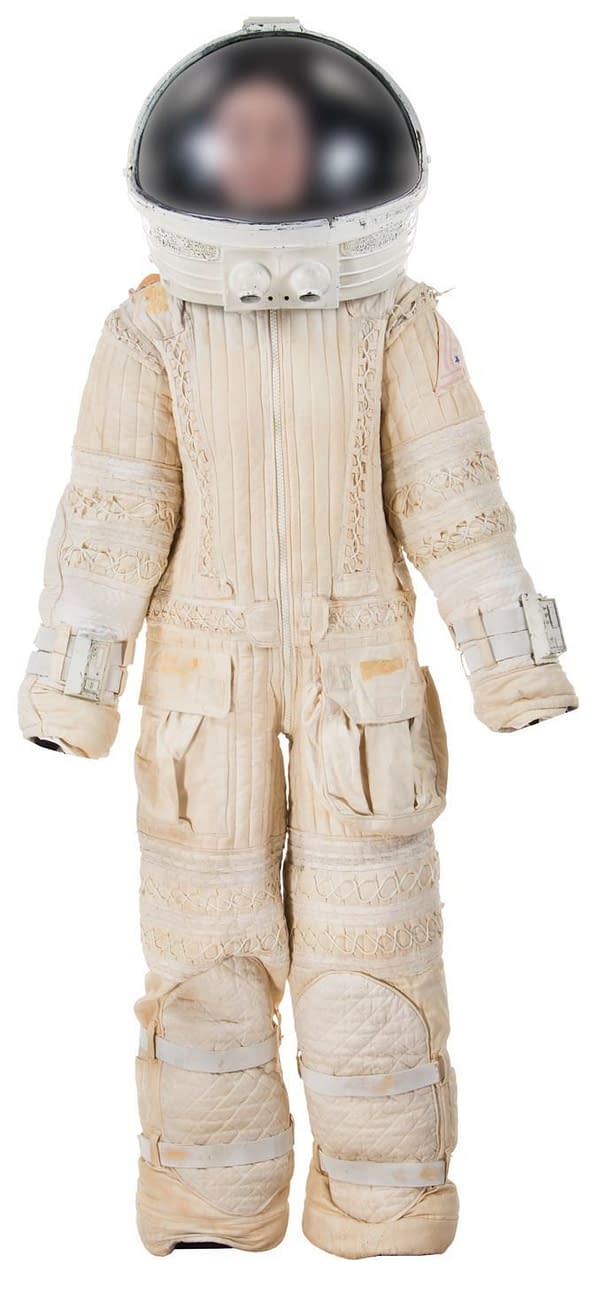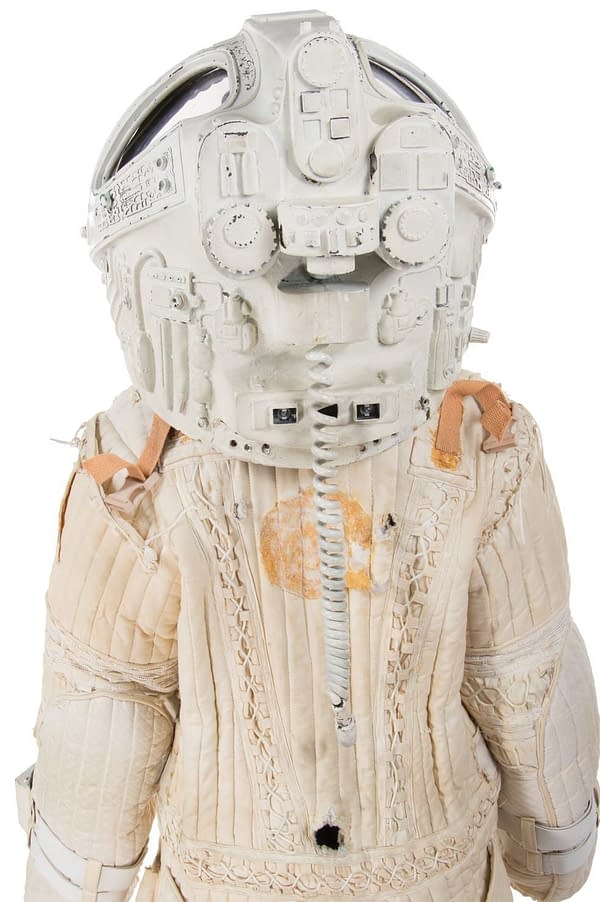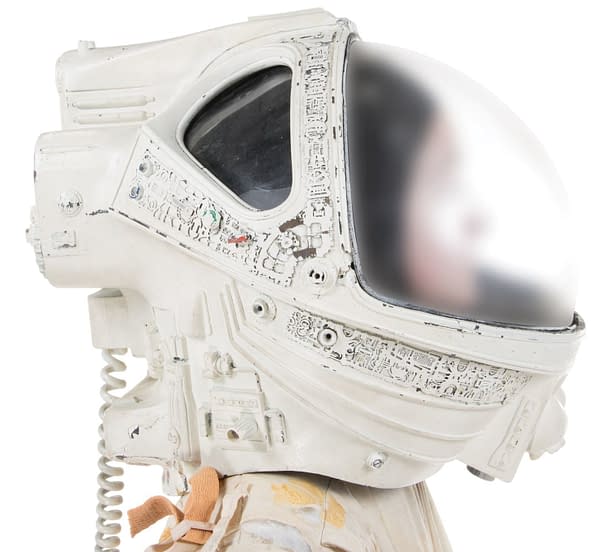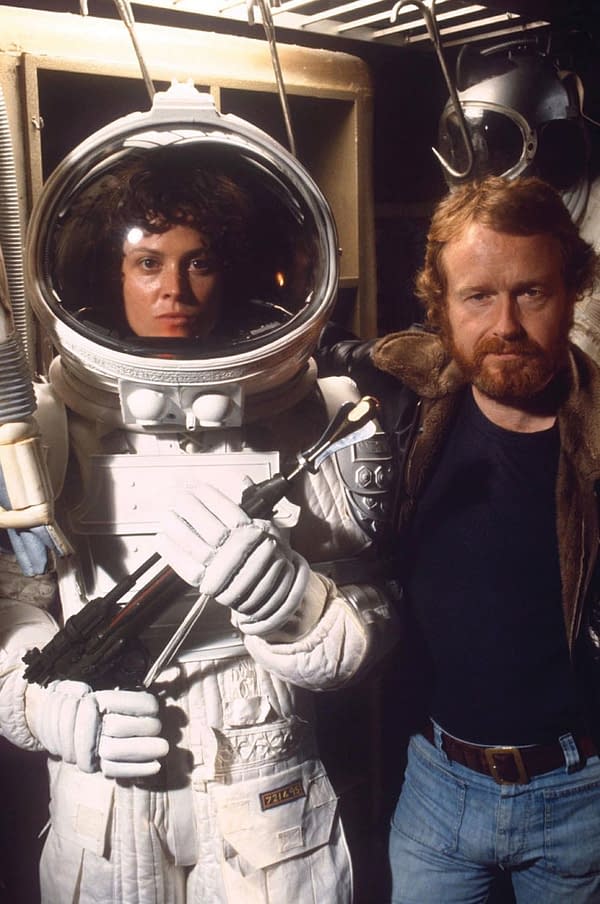 858. Sigourney Weaver "Ellen Ripley" spacesuit from [i]Alien[/]. (TCF, 1979) Vintage original "Nostromo" space suit consisting of heavy ivory canvas paneled and quilted jumpsuit with padded pockets at front and back, white netting and webbing strap and lace up embellishments throughout and with zipper back closure and triangular patch on left shoulder, (2) cast resin environmental regulators on wrists, and also includes a distinctive matching eyeball-shaped helmet constructed of cast fiberglass shell with the domed clear faceplate nested in the lidded, ornately etched frame of the helmet. The back of the helmet retains integral sculpted tech, some embedded LEDs and a spiral phone-style cord. Interior helmet features a small red light over the mouth area and cast resin static tech panels. The helmet is an original landing party helmet used in the earlier sequence of the film when the crew encountered the derelict ship. It has been repainted in white to match the helmet used in the climactic sequence when Ripley blows the Alien out of the shuttle airlock. Using authentic Samurai Warrior armor as inspiration and the French comic artist Moebius' distinctive style in design, John Mollo created the iconic spacesuits for the movie. Made to look intentionally bulky and utilitarian rather than pretty, these suits innovated the practical and gritty look of movie spacesuits in much the same way Star Wars made spaceships appear weathered and aged. The result was Sci-fi design so visionary that it doesn't appear dated even decades later. Exhibits production wear, with some minor soiling and tearing in areas. $40,000 – $60,000
The signature flamethrower that Ripley uses to defeat the xenomorph in Aliens went for $108,800 (USD).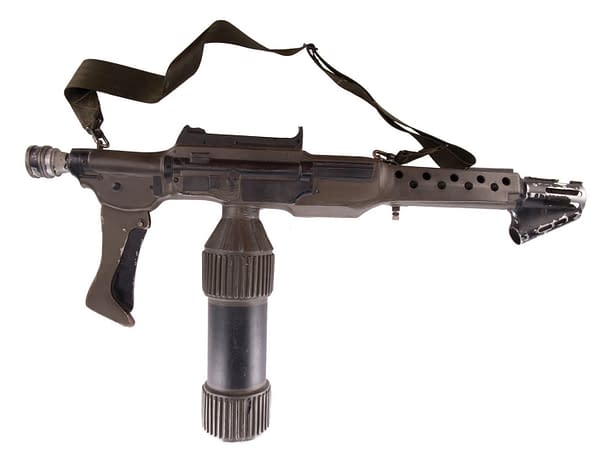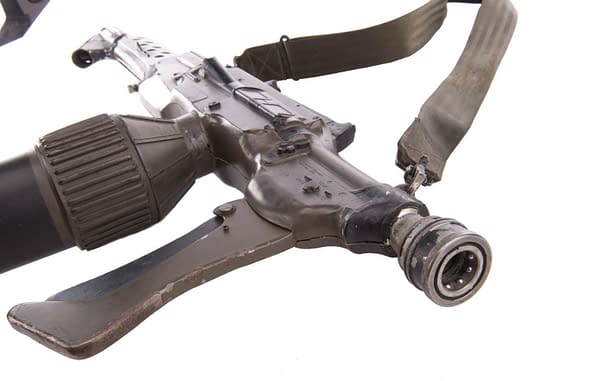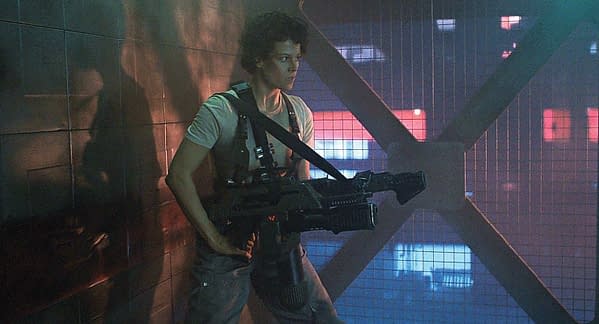 859. Sigourney Weaver "Ellen Ripley" flamethrower from Aliens. (TCF, 1986) Original M240 Flamethrower modified with parts from M16 rifles and an M203 grenade launcher hand guard. The prop flamethrower combines the upper receiver assembly of an M16A1 rifle, with it's ventilated closed flash hider over the barrel, cut into 2-parts with the top gun handle facing forward and the ejection port reversed. The flamethrower is constructed of the repurposed rifle parts and completed by a cast fiberglass frame, custom resin and metal components and a large metal and cast resin fuel cylinder that attaches to the bottom of the weapon's stock. The flamethrower is expertly studio painted and finished in military green, gunmetal gray and black. With black web belt carrying strap attached to metal hoops at the rear barrel and gun butt. Aliens is one of few productions to use actual military liquid-fueled flamethrowers, in addition to safer gas-powered weapons used in other films. This liquid fuel flamethrower is highly visible when Ripley grabs it from a gun rack and combines it with a pulse rifle before going on to incinerate the Alien Queen's vast egg nest. This incites the unforgettable climactic battle between Ripley and the furious Queen alien. Exhibiting studio distress, production wear and age. Some cracks to resin/fiberglass components. In overall vintage very good condition. $40,000 – $60,000