[rwp-review-recap id="0"]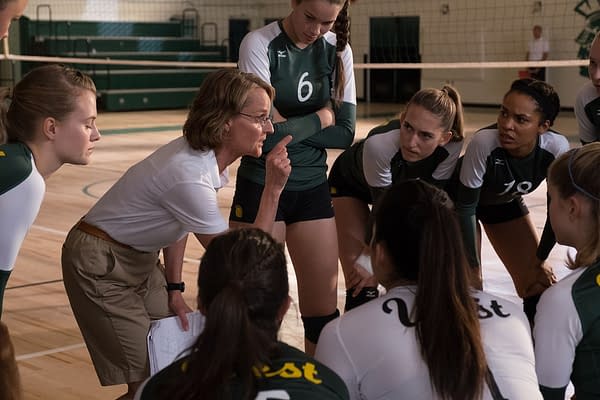 The Miracle Season is a film that will likely have a relatively limited shelf-life in theaters but wind up having a relatively devoted following once it settles into its run on streaming services. Directed by Sean McNamara from a script penned by David Aaron Cohen (the fellow who created Friday Night Lights), it's a film about a smalltown tragedy turning into a determination to overcome.
In a similar vein to We Are Marshall, the film follows a successful Iowa high-school volleyball team which has come off of a state-winning season. Now looking forward to it's new school year and attempting a repeat, the heart (and captain) of the team is Caroline Found (played by Danika Yarosh). We are introduced to her as the type of person that lights up any room she enters. Then in an instant, she's gone, killed in a tragic one-vehicle accident. Found's friends, family, team, and school are devastated. Now they have to find the way to come together to overcome their grief and celebrate her legacy by not giving up.
A true story that is kept to the playbook of the real-life "Line" (she hated being called Caroline) far more closely than most of hollywoods adaptations. HBO did a documentary shortly after her death focusing on the impact on the team and wound up finding itself following along with an actual cinderella story in the making. After having their hearts ripped out by her death, the team all but imploded, and after forfeiting several games by not fielding a team at all, they began to play again… but terribly. Losing game after game it all fell apart, but then slowly started to turn around and they wound up having a wildly improbable run to the state finals once again winning game after game after game.
This film, rather like Rudy, doesn't focus a great deal on the games themselves. There's the Big Game at the end, but the rest of the time it's more focused on the lives of the people who have been impacted by the tragedy and trying to make sense of it all and by trying to figure out how to accept and move forward. There is a lot of crying involved, and we're not always connected enough with the characters to be at the same level of grief as they are. A few of the speeches seem a bit too contrived, and for films we might wheel out to help deal with loss in our own lives, this one is fine, and likely suitable for many kids. Though with last year's When A Monster Calls is by far a superior entry into the children (or anyone's) coming to terms with the loss of a loved one.
Helen Hunt as the team's Coach, Kathy Bresnahan, turns in a solid performance, and William Hurt is similarly present and accounted for, it's Erin Moriarty as Line's BFF Kelley, who turns in the film's best performance as someone who had lived her life in Line's long shadow. Now the person casting it is gone and she is forced to learn to step into the light and not replace her best lifelong friend but to become her own identity and help lead the people around her to healing. As Hurt says as Line's father to Kelley: "I might be the surgeon, but you [Kelley] are the healer".
For people looking for great depth or exciting sports, this isn't going to really be your thing, but if you like solid real-life stories about healing and defying the odds, this will be something to make you smile.
[rwp-review-ratings id="0"]
[rwp-review-form id="0"]
Enjoyed this article? Share it!