The Wife Review: When a Great Script Meets Perfect Casting
[rwp_box_recap id="0"]
Throughout the year, one will see films that stick with you after you see them. Some because of a memorable action scene, or a great chase through a crowded street. Some, like The Wife, stick with you because you are witnessing great actors performing at the heights of their profession. People write all the time that cinema for adults is dead- that everything now is just explosions and sequels and big budget romps. This film arrives to tell you no, adult drama is alive and well. You just have to find it.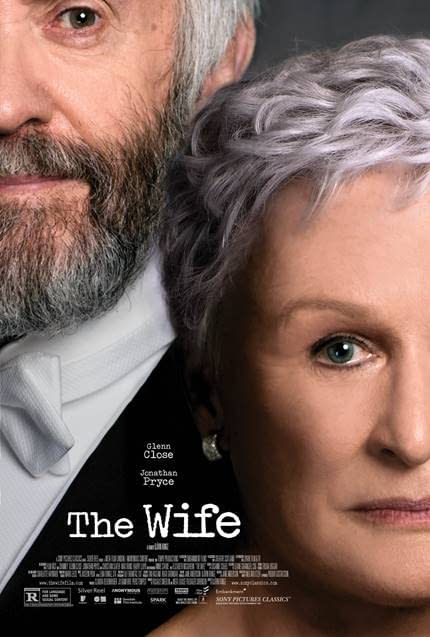 The Wife turns the magnifying glass on the Castleman family. Joe (Jonathan Pryce) is hailed as the "Great American Novelist", so much so that he finds out he is being awarded the Nobel Prize for literature. Happy for him, his wife Joan (Glenn Close) and son David (Max Irons) accompany him to Stockholm to accept the award. Also along for the ride, much to the family's dismay, is journalist Nathaniel Bone (Christian Slater), who is trying to write the definitive biography of the man. What follows is a journey through Joe and Joan's relationship from the time they met in the 1950's to the ceremony itself, with all the passion, lust, secrets, and lies laid bare, building to the ultimate reveal that threatens to tear the family apart.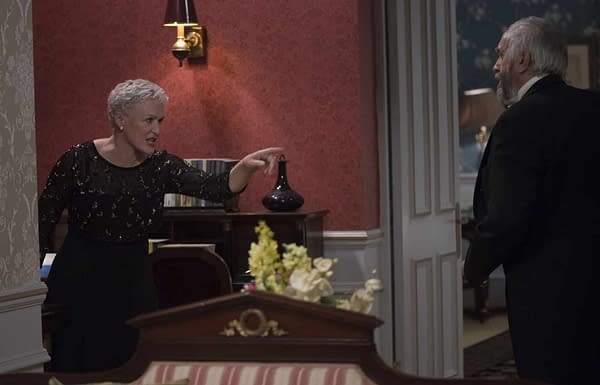 Obviously there are twists and turns that dare not be spoiled, but they are wonderfully handled. When you are dealing with actors of this caliber, it is almost impossible to overwrite a scene. Jane Anderson's script is full of piercing dialogue and has wonderful things to say about the writing process and how high the highs and low the lows can be. Director Björn Runge gives everything this sinister edge, everything feels so cold stuffy in all the best ways. It is not that you know where this story is going or ends up, this crew knows it is more about the journey and how we get there.
And what a cast to take us on this ride. Close and Pryce are a dream as the loving couple, and both will break your heart and and sow it back together, often in the same scene. These characters have wounded each other in deep, meaningful ways for so long, that watching it all barely hang on is as good as any action scene you will see all year. That they dragged their son into it makes it even more tragic. One often wonders what it is like to grow up in the shadow of such a successful parent, and this offers a nice glimpse into that type of relationship. Christian Slater is also great as the annoying reporter. The bar scene with Slater and Close is the best in the film, they fire back at one another so well that its kind of sad when the scene is over. Annie Starke and Harry Lloyd are also great as the young Joan and Joe. The lust and love they share carries the flashbacks and you can totally believe how fiercely these two loved each other.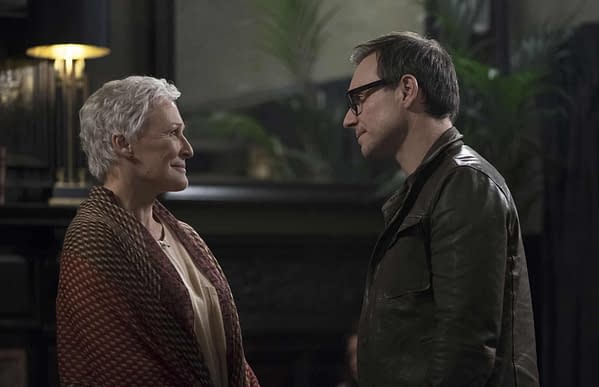 The only thing that keeps this film from being an instant classic is the abrupt ending. It comes out of left-field a bit and there was a bit more story there to be told. It makes you angry, but it is a good angry. You want to keep spending time with the Castlemans. Whenever you get such rich characters it is always harder to get up and leave when the lights come back up.
The Wife will surely and rightfully so get awards attention this winter. Close and Slater especially should get the most attention, and maybe, just maybe this is the one that will finally honor one of our greatest living actors. We should all be rooting for her.