Theresa Mercado Is Planning to Scare You: "Dead End Drive-In", Scream Screens, and How to Program a Film Series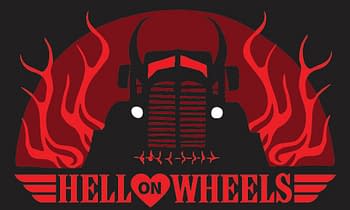 This episode we're chatting with Theresa Mercado, curator of the Scream Screen film series in Denver, and her current series of films "Hell on Wheels," dedicated to vehicle-related horror. The series wraps up this Friday, Feb 28 with the "Ozploitation" sci-fi horror thriller Dead End Drive-In (1986), with a live appearance from director Brian Trenchard-Smith. That's par for the course for Scream Screen, a quarterly series of cult horror that has been running at the Sie FilmCenter for five years, often pairing classic horror with Q&As and live music. As the programmer, Mercado has run such series as "Treasury of Terror: A Decade of Horror Anthologies," "The Psychosexual Films of David Cronenberg," "The Horror Films of John Carpenter," "When Animals Attack," "The Giallo Films of Dario Argento," "The Non-Zom Films Of George A. Romero," "As Seen On TV!", "Beyond Elm Street: A Tribute To Wes Craven," "Welcome To The Funhouse: A Birthday Slash-ebration of Tobe Hooper," and a lot more.
Mercado chatted about the challenges of putting "butts in seats" for a film series when so many classic horror movies are available streaming at home. It involves an alchemy of choosing films that the audience might want to see and learn about, without going too far down the rabbit hole of obscurity. But the programmer's skill is paying off, as the series continues and is attracting more live talent to accompany the films each year. The show coming up the week of this interview, Dead End Drive-In, is an excellent example of a film people might have heard of but not seen: it's a mid-80s Australian post-apocalyptic thriller about a drive-in that acts as a walled-off prison from which one young man wants to escape. Brian Trenchard-Smith will be speaking and taking questions.
Get tickets to Dead End Drive-In at the Sie FilmCenter, and check out the accompanying apparel pop-up shop by Cult Legacy.
Listen here:
Listen on YouTube:
Check out the Trailer for Dead End Drive-In:
Castle Talk Podcast Links:
Join us over on Facebook to chime in.
The show is hosted here. Get our RSS Feed. Subscribe at iTunes. Listen on Stitcher. Or watch on YouTube.
Twitter: jasondhenderson.
The Team: Hosted by Jason Henderson, editor of the Castle of Horror Anthology and Young Captain Nemo, and creator of the HarperTeen novel series Alex Van Helsing.