Things We Learned from 'Ready Player One' 4K/Blu-ray Special Features
While Warner Bros.'s film version of Ernie Cline's fantastic Ready Player One wasn't the perfect adaptation, it DID have plenty of nods and winks to the source material to make even the most hardened of purists enjoy and appreciate it.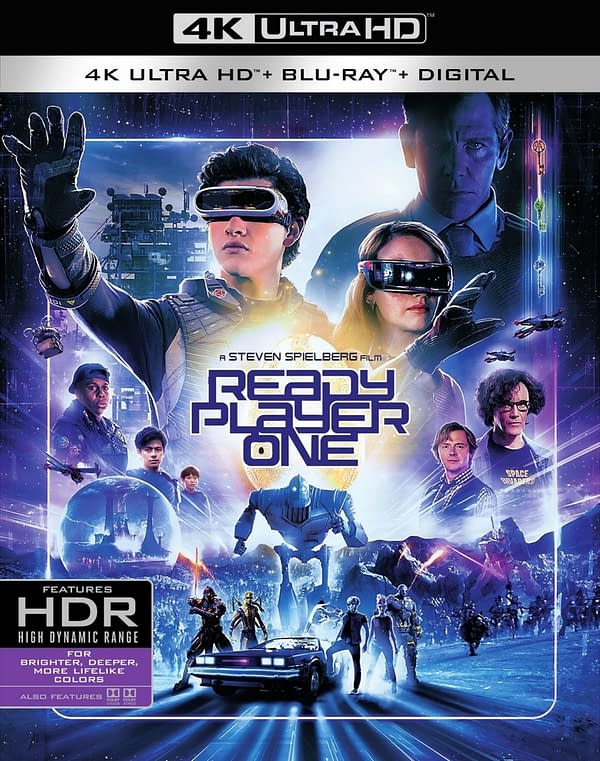 Thankfully, we can FINALLY have the Ready Player One experience at home, as the film has been released as of today on physical media — 4K, Blu-ray, and DVD. If you saw the film in either 3D or IMAX formats, the 4K is the way to go. Not that the Blu-ray isn't fabulous (because it is), but the purity of the images and level of sound editing is more all-immersive on the 4K.
We were lucky enough to get our hands on the Ready Player One 4K disc early and dove right into the bonus features.
The 80's: You're The Inspiration (5:38)
Steven Spielberg calls Ernest Cline the "oracle of pop culture"
Ernie talks about the '80s — when he got his first video game, his first computer, and a VCR
Ben Mendelsohn calls it a "dream story", says he was an arcade goer
There's a on-set vid of Spielberg and Ben talking about the specific Atari unit
Simon Pegg calls the '80s a seminal time
Zak Penn says his favorite films were in the '80s
T.J. Miller goes full '80s, wearing a red hoodie (Elliot from E.T.), Hawaiian shirt, plaid pants (Chunk from The Goonies), and power lacers (Back to the Future II)
Ernie says everything is still really surreal
Game Changer: Cracking The Code (57:23)
Footage of the mo-cap stage, with the cast in their suits with balls
"I only use technology to tell a better story. I try to get it to disappear, so you're only hearing the story."
Spielberg says WB brought him the project (which goes against what he's previously said, that his wife actress Kate Capshaw is who got him interested in it) and that the script blew him away. He read the book and went even deeper into love with it.
Dan Farah talks briefly about how the book got picked up by Random House and that WB wanted rights
Donald De Line compares RPI to Highline and Arthur C. Clarke
"Everyone finds something in this world they can relate to."
Spielberg compares the OASIS to Tombstone before Wyatt Earp showed up; a frontier
Kristie Macosko Krieger (associate producer on many a Spielberg film) says they picked and chose what they wanted to include from the novel, then brought in Zak Penn to write the screenplay.
[Ernie had originally written a screenplay of the book before the book was even published, btw]
Zak Penn says he passed on the project the first time it was sent to him, calling it "unmakeable"
Ernie says that Zak included him from the beginning, called him all the time and asked him questions.
Talking about the High Five, that it needed to be young actors rather than "big stars"
Spielberg talks about casting, that he knows the right person for something when he sees it
Some chatting with each of the high five and how they auditioned and came to film
Olivia Cooke was cast before Tye, she did two rounds of chemistry reads
She says that Tye had a calmness that was beyond his years
Diving into costumes and art direction
Adam Stockhausen previously worked with Wes Anderson and approached the two worlds of the film with saturation
Kasia Walicka-Maimone designed for both the real world versions and the avatars
There's some talk about the avatar designs, Daito and Shoto were done first and pretty much didn't change
Lena Waithe says that Aech is part Rambo part Mr. T
Art3Mis is classic action heroes mixed with punk
"Aech's garage [basement] can be anything in the world."
They talk about the design of the race
In talking about the design of Wade's bootsuit, Kasia says it's a stretch silicone and that the manufacturer told her "a year ago this would not be possible, and now it is."
Nolan's suit was designed like the interior of a luxury car
Spielberg likes to toast on the first day and last day of a film, and we get to see the first day's toast
Mark Rylance says he's not so great with technology, with that adorable voice
Watching Spielberg with his handheld screen is pretty great, he says the process was like making four different movies
There was a "virtual set" created, to be able to show the cast what the environment was going to look like
Olivia's first day on set was Art3mis getting the Jade Key alongside Mark
Spielberg says he loved Bloodline and knew then he wanted to work with Mendelsohn
And then, The Shining sequence
Ernie calls it his favorite sequence in the film and that he got to co-write it with Zak
The blood hallway was done in digitally
Jan Harlan and Christiane Kubrick were both on set during one of the days filming the sequence, and they appreciated the homage
Sorrento's I0I number is Alex's from A Clockwork Orange, 655321
Yes, all the real world scenes were filmed with actual film, adding to the grit
The entire 6er war room was a physical set, the rigs were located right below the office set
Art3mis's hideout was filmed in an abandoned tea factory in Birmingham
"Low tech high tech."
Hannah John-Kamen did all her own stunts
There was a short version of The Stacks built, and we're treated to footage of the night they did the explosion.
Effects For A Brave New World (24:40)
A deep dive into the visual effects of the film, things like a full VR world built before filming happened
The instantaneous ability to move things around in the VR sets is pretty impressive
Spielberg was able to use a camera with his VR avatar within the digital world, pretty much filming a film within a film within the VR world.
***
The biggest complaint I personally have with this bonus content is the lack of chapters. The "Game Changer" featurette is massive, which is great, but let's say you just want to watch the section about costumes. You'd have to skip around to try to find it, rather than it being its own little tidbit.
That said, I am thoroughly impressed with the lengths of behind-the-scenes materials included in this release, because I was positive they would sort of skim the surface and not go full Gunter. The amount of love and care Spielberg put into his version of Ready Player One is obvious, and I'm willing to forgive some (not all) of his creative decisions.
I highly suggest picking this one up, even if you didn't love the film in theaters. Ready Player One on 4K/Blu-ray, Blu-ray, and DVD was released today, July 24th, 2018.