Tom Holland, Daisy Ridley Film 'Chaos Walking' "Deemed Unreleasable"
Hope you weren't expecting to see Lionsgate's Chaos Walking film, which is an adaptation of Patrick Ness's "The Knife of Never Letting Go", anytime soon.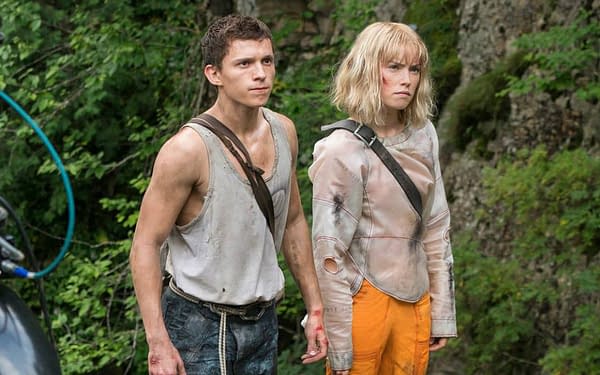 Starring Tom Holland (Spider-Man: Homecoming), Daisy Ridley (Star Wars: The Force Awakens), and Mads Mikkelson (Hannibal), the flick apparently has been "deemed unreleasable" following poor test screenings and audience reception.
A report from The Wall Street Journal goes so far as to claim the film, which was originally set to release back on March 1st 2019, is currently undergoing reshoots. This reportedly brings the film's ballooning budget to around $100 million.
Apparently the film has "turned out so poorly it was deemed unreleasable by executives who watched initial cuts last year, according to current and former employees." Chaos Walking indeed.
Of the three weeks of planned reshoots, "We wouldn't be shooting more if we didn't think we could make this movie work," Lionsgate Chief Executive Jon Feltheimer told the WSJ.
Eternal Sunshine of the Spotless Mind, Being John Malkovich and Adaptation screenwriter Charlie Kaufman wrote the most recent draft of the script, along with Jamie Linden, Lindsey Beer, Gary Spinelli, and John Lee Hancock. We've also heard rumblings that Patrick Ness stepped in to help as well.
In the near future, Todd Hewitt (Holland) has been brought up to believe that a viral germ has killed all women in a colony world and unleashed Noise, the special ability to hear people's and animals' minds. Later, he comes upon a patch of silence and soon discovers the source of the silence: a mysterious woman named Viola Eade (Daisy Ridley). On the run, they learn more about the true history of the New World.
It's worth noting that the last few Lionsgate titles (Gods of Egypt, Robin Hood, even Hellboy) haven't done as well as expected at the box office, and maybe that result is causing some retooling of the next property.
We'll let you know what happens with the film.