Watch: Tommy Wiseau Auditioning to Play The Joker
Thanks to The Nerdist presents, we get to see The Room creator, writer, director, star Tommy Wiseau in an audition video to play The Joker.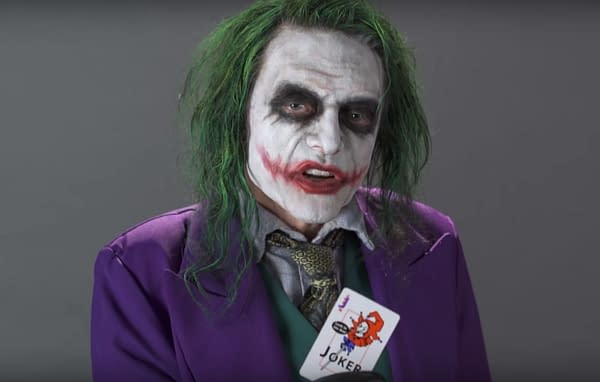 To explain a bit, rumors have mostly-but-not-really been all but confirmed that Joaquin Phoenix will be playing the ultimate Batman baddie in the upcoming live-action Joker origin story film.
Wiseau started tweeting to director Todd Phillips about wanting to play the part of The Joker, and shortly thereafter The Room costar Greg Sestero said he'd play Batman to Tommy's Joker.
Not gonna lie, this is pretty f*cking terrifying to watch, and if you're watching it at work or in a crowded room, make sure your volume levels are down — because it gets LOUD.
The results are… well…
Just. Why, Nerdist, why?
The entire 'audition' is staged, obviously, and maybe it's more than a little mean spirited towards Tommy, who by all accounts doesn't always understand the difference between reality and film.
Wiseau and Sestero have a new film coming out, Best F(r)iends Movie, and Tommy has even said that there's another project after that called Scary Love.