Posted in: Exclusive, Interview, Movies | Tagged: exclusive, interview, Matt Nable, Phoebe Tonkin, Saban Films, sam worthington, Transfusion
---
Transfusion: Star Matt Nable on Taking Bold Next Step into Directing
Actor-writer Matt Nable (Arrow) talks to Bleeding Cool about his latest thriller Transfusion, his directorial debut, Sam Worthington, & more.
---
Matt Nable (Riddick, Arrow) prides himself on being a jack-of-all-trades, whether in front of a camera or creatively taking charge in his writing. The actor and writer figured after 16 years it was about time for him to take a crack at the director's chair in his latest film, Transfusion, which follows Ryan Logan (Sam Worthington), a special forces operative who plunges into the criminal underground for one final mission to protect his son. Nable spoke to Bleeding Cool about the Saban Films thriller, working with the Avatar: The Way of Water star, casting, and his unique approach to directing.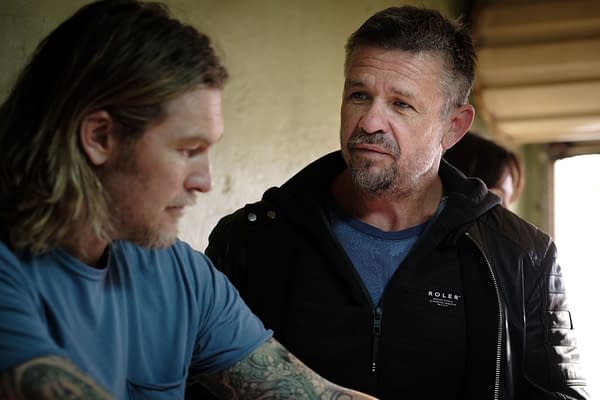 Transfusion: How Writer & Star Matt Nable Transitioned to a First-Time Director
Bleeding Cool: What was the inspiration behind 'Transfusion?'
Nable: I come from a writing & acting background. I'd written a few films I didn't direct, and they were in someone else's hands. Not to say they weren't executed well. They were they did well, but I wanted to direct a film. To that end, what I needed to do was write about things that I knew. I'm a father of three kids, two boys in their teenage years, and I am an Army kid. My father was in the Army for 20 years, so I moved around a lot on bases. Within my generation, that led me to be around some affected men who'd come back from war zones, so I understood that side of it well. That was the genesis: if I was going to direct something, I needed to write about something I knew. That's how it all kicked off.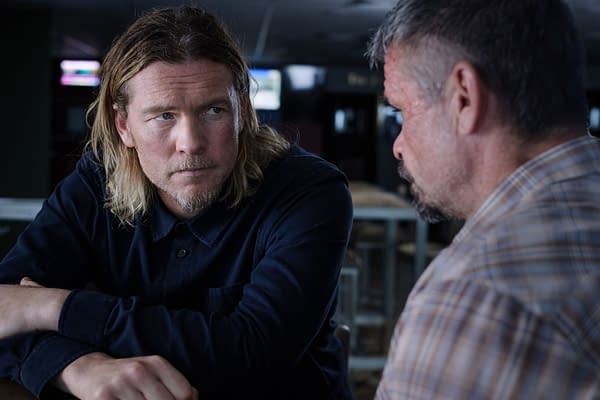 Which side helped you in your directing more, acting or writing?
Writing and acting inevitably fit what I would need to do as the director. There's a big difference as an actor interpreting someone else's words other than your own. That's a different skill altogether sometimes. I had to act in this film as well, but they were my words and scripts that made it easier when juggling the directing side of things as well. As far as acting in and directing yourself is not really what happens, not in this case anyway. I also had some producers who came from acting backgrounds, so they had my back while the camera was on me.
I also worked with Sam Worthington, who was remarkably experienced and had been around a long time. On the acting side, when you juggle that with directing, you're leaning into a hallway for people who are very experienced and have your back. The writing side of things helped the directing more than the acting because you have a blueprint, the script. If you get that right, the tone is set right early, and the narrative is moving in the direction you want, then the other stuff should fall into place. The writing certainly helped me.
Speaking of Sam, was he on board from day one?
He was. We had managed to get to Sam relatively quickly. I had worked with him on another film. We've known each other, and I wrote this part specifically with him in mind. That was primarily because he was at a point in his life where he was a father himself with three young boys. We got it to him quickly and had a lot of discussions between him and the film taking place. He climbed aboard immediately. Once we had that piece, then we could design the film around Sam and put it together.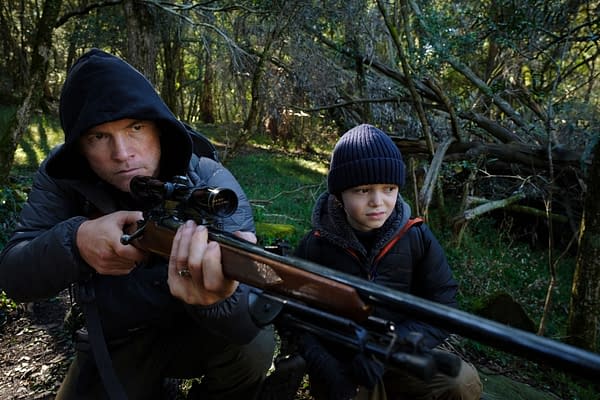 How did the rest of the cast come together?
Beyond myself, they were kids and Phoebe Tonkin, who plays Justine, Sam's character's wife. She read the script early on, and It's one of those situations where she fought for it and wanted it where we're with a couple of other people at different stages. Deals weren't working for some reason, and Phoebe kept her hand up. We're glad and fortunate that we brought her on board because she did a great job, and the kids were big casting calls. The rest were filled with other actors I worked with closely over the years. A lot of them were on offer. The only real casting decisions made were the young kids, and we saw a lot of those.
Was there any sequence or aspect of production that was more difficult than the rest?
Some set pieces were challenging at different stages. Still, we were working with some experienced people in the heads of departments, particularly the DOP I worked with closely before on another film that I had written but didn't direct. Young kids sometimes corralled other kids to ensure they got the performance they needed. Beyond that, it was a relatively easy shoot that way. I wasn't up against a great deal beyond the set pieces. A lot of those things were between two people. I was aware coming into it as a first-time director; I didn't want to bite off more than I could chew. It's a very contained film; apart from some of those set pieces, the violence in the fighting had to be choreographed. Beyond that, it was challenging, like juggling a lot of balls in the air. I enjoyed it immensely, and there wasn't enough in there that wouldn't discourage me from doing it again.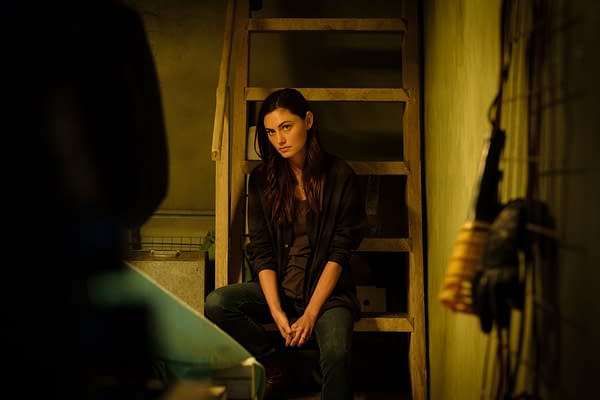 What were your biggest creative influences, and what led you to decide the time was right to direct your first film?
I didn't have any real influences. I'm not a guy who watches a film like I said this the first time I've directed. I didn't have any great desire to be a director growing up or even in my early years of acting. That wasn't something I gravitated to. I did this because I felt it made sense at this point in my career, having written so often. It was the next part of the evolution within the industry, and this is what you're involved in, so why don't you try this? And as far as influence is concerned, there are movies that I like. I watch a movie, and I'm not one of these guys who's looking at shots.
I can appreciate good cinematography, and I know when the scores work and all those things, but as a movie guy, I go in there and watch a film. I want to be swept away with the story, and I'm not looking at those things. No one influenced me. We try to design a film and set a time that fits with what we had as a script, so how it turns out and looks is what we had in our head. I'm not a film nerd insofar as looking at directors and jumping on board with one or the other; I look at each piece of film or TV on its own and the reasons why it resonates with me or works. I don't often associate with the actual mechanics of filmmaking. I wasn't influenced by anything.
After completing your first film, what is your greatest takeaway from the experience?
Whether you like the film or not, it's well-made. It's put together well. The performances are good. I realize I'm not out of depth and can do it. Beyond that, it was a good experience as a director; I'm very calm. I didn't get flustered or overwhelmed; I'm not operating on someone's heart here. I got a movie and feel privileged and honored to be in that situation. There shouldn't be any reason for me as a filmmaker for anyone to come on to a set that should feel anything but a sense of fun and joy to be doing it. If you don't get it right, we just do it again. It's not that hard [laughs].
Transfusion is currently available in theaters, digital, and on demand.
---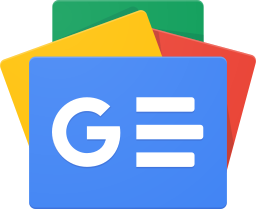 Stay up-to-date and support the site by following Bleeding Cool on Google News today!