Twister Reboot, Or Reimagining, Is On The Way At Universal
Twister may be returning to theaters, just not like the classics that are there now. No, this will be as a reboot/reimagining over at Universal. Top Gun: Maverick director Joseph Kosinski is circling the project, with Hollywood mega-producer Frank Marshall executive producing and the team meeting with writers. The original 1996 film was a huge summer hit, grossing over $490 million worldwide. That film was directed by Jan De Bont, with Stephen Spielberg producing and Michael Crichton penning the script. It starred the late Bill Paxton and Helen Hunt as tornado chasers trying to outwit a rival tornado chaser team to test a new kind of weather mapping device…sorry. It was about people running away from tornados. Variety had the news of this Twister reboot.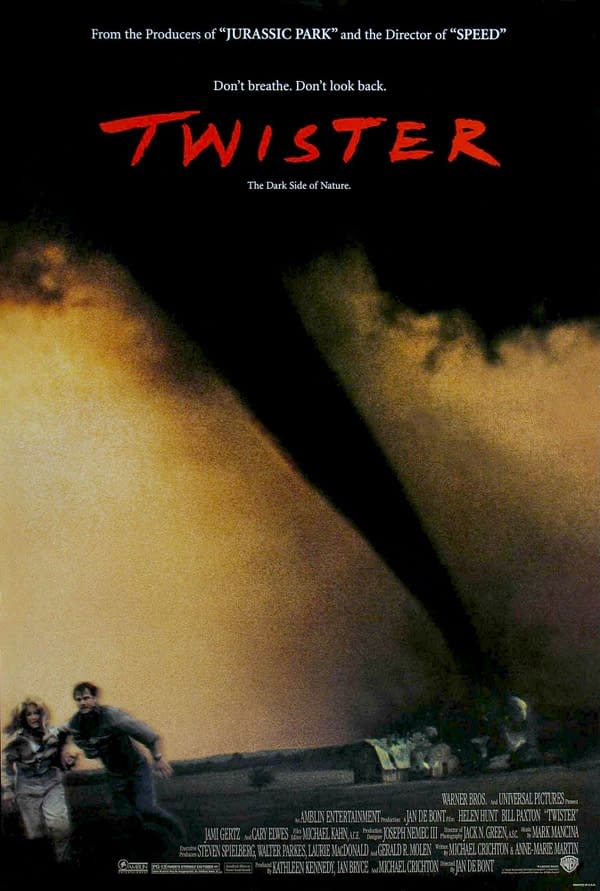 Twister Could Still Work Today…With The Right Cast
Part of the charm of that original film was the cast. Sure, you can hire anyone to run away from a Twister, and people will probably show up. But hire Paxton, Hunt, Carey Elwes, Jami Gertz, Phillip Seymour Hoffman, Alan Ruck, Joey Slotnick, Jeremy Davies, and a few other solid character actors and you will actually care about whatever science garbage they are spewing from the script. That is what made that original Twister film memorable for so many.
That and the effects at the time were pretty impressive. It was nominated for the Academy Award for Best Effects, and any new film would have a high bar to clear there. Watching it again the other day, Twister could definitely work these days. Kosinski is an interesting choice; he is a very stylistic director as anyone who has seen Tron: Legacy or Oblivion can tell you. Maybe he can get Tom Cruise to play Paxton's college or something trying to advance his and Hunt's work. Seeing Cruise get sucked into a tornado might be something people would pay to see.