Welcome to Berlin 2052, brought to you by the mind of director Duncan Jones and his new film, Mute. The 'spiritual sequel' to his critically acclaimed film Moon, this Netflix production has pretty much everything we want in a futuristic film.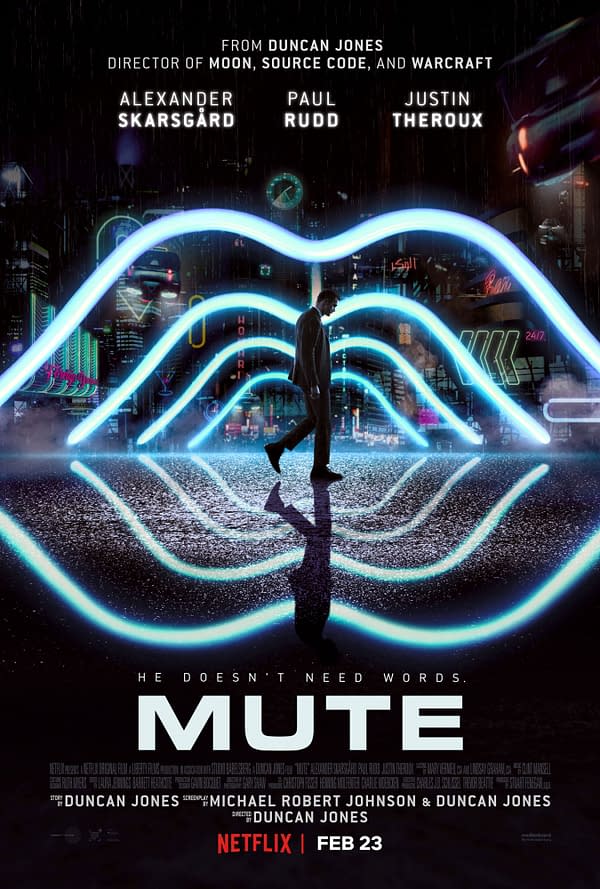 The streaming service released the first trailer this morning, featuring a cast including Paul Rudd, Alexander Skarsgård, and Justin Theroux.  Check it out:
The official synopsis for the film from Netflix reads:
Berlin, the future, but close enough to feel familiar: In this loud, often brutal city, Leo (Alexander Skarsgård) – unable to speak from a childhood accident – searches for his missing girlfriend, the love of his life, his salvation, through dark streets, frenzied plazas, and the full spectrum of the cities shadow-dwellers. As he seeks answers, Leo finds himself mixed up with Cactus Bill (Paul Rudd) and Duck (Justin Theroux), a pair of irreverent US army surgeons on a mission all their own.

This soulful sci-fi journey from filmmaker Duncan Jones (Moon, Source Code, Warcraft) imagines a world of strange currencies in which echoes of love and humanity are still worth listening to.
Netflix is killing it right now with their futuristic series — it stands to reason their film offerings won't disappoint. (Seriously, just you guys wait 'til Altered Carbon hits in two days. It's AMAZING.)
Mute will hit Netflix on February 23rd.
Enjoyed this article? Share it!