Weekend Box Office: 'Star Wars' Rules, While 'CATS' Runs Out of Lives
Star Wars: The Rise of Skywalker easily won the weekends box office. This will surprise no one. What is a surprise however is that is is way down from the openings of The Force Awakens and The Last Jedi. Skywalker took in $176 million, $374 million worldwide. That is good enough for the third highest opening in December all-time, behind Force Awakens at $$248 million and Last Jedi's $220 million. The true test for how the film will end up is how is performs over the holiday week.
Lots of people are busy with holiday shopping and other things, and the former two films in this trilogy opened a bit earlier in December. So we shall see. CinemaScore exits polls had it running at a "B+", the first Disney and Lucasfilm Star Wars film to score less than an 'A".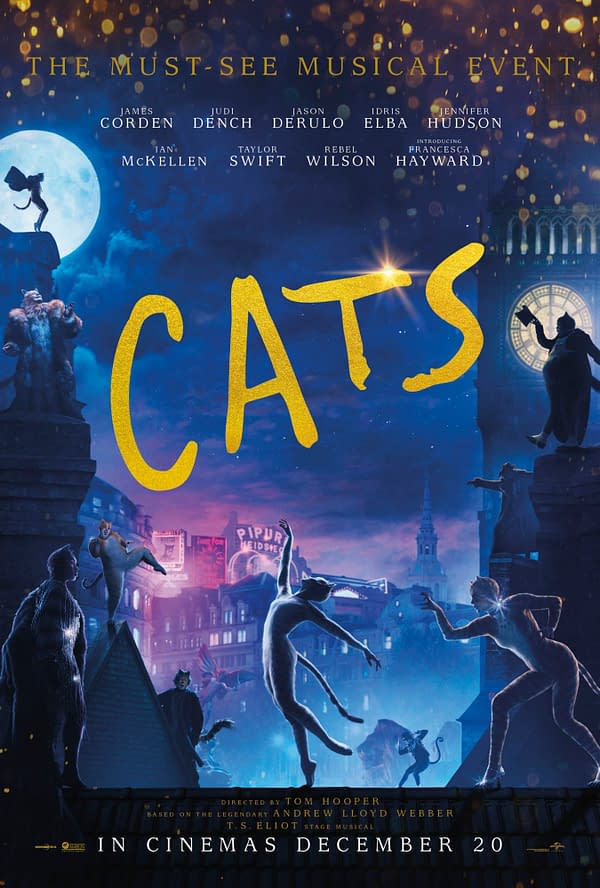 Opening against Star Wars was always a foolish proposition, but CATS bombed hard out of the gate, grossing only $6.5 million and a forth place finish. The maligned film now needs to hope that for some reason people will see this as an opportunity to watch a train wreck happen in front of their eyes to make this even a moderate disappointment. In an unprecedented move, they are re-releasing the film with updated special effects, implying that the film was unfinished at release. What a disaster.
Rounding out the top five are last weeks champ Jumanji: The Next Level at a staying strong $26.1 million, Frozen 2 at $12.3 million, and Knives Out continued its awesome run, adding $6.1 million.
The Weekend Box Office Top 10 for December 20:
Star Wars: The Rise of Skywalker- $176 Million
Jumanji: The Next Level- $26.1 million
Frozen 2- $12.3 million
CATS- $6.5 million
Knives Out- $6.1 million
Bombshell– $5.1 million
Richard Jewell– $2.56 million
Queen & Slim– $1.85 million
Black Christmas– $1.8 million
Ford vs Ferrari– $1.8 million
Next week sees the wide release of Adam Sandler's Uncut Gems, Greta Gerwig's Little Women, and the animated Will Smith vehicle Spies in Disguise. In limited release, we will get the war film 1917 and Just Mercy.