Why Carol and Maria's Friendship Was More Important Than a Love Interest in 'Captain Marvel'
It's refreshing when a female character in a film is allowed a journey and friendships without the lingering plot point of a romantic relationship. That's not to say there weren't hints in Marvel Studios Captain Marvel, but, on the whole- Carol's journey was more about her friends than possible love interests.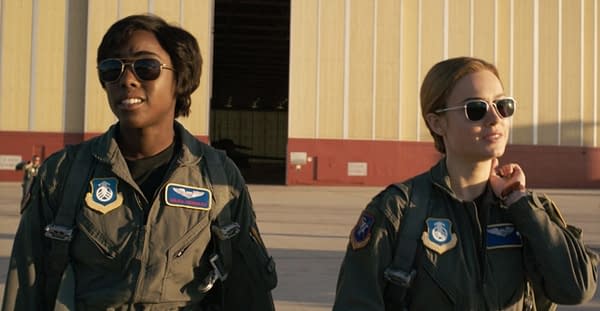 In a recent chat with ScreenRant, Marvel Studios boss Kevin Feige answered a question about the bond of friendship vs 'relationship' in Captain Marvel between Carol (Brie Larson) and Maria (Lashana Lynch).
ScreenRant: You know one thing I love about this movie as well is the friendship. To me that's a highlight of the movie, the friendship between Maria and Carol. I think that it keeps it grounded. It doesn't need to be a love interest in this movie. It's just a bond and a friendship. Talk to me about how that relationship is just different than any other kind of relationship and how that keeps Carol grounded and brings her back to her humanity.

Kevin Feige: Well that was something as we were developing the script and queuing off of the comics as always, it never even occurred to have a love interest. That's not what the movie was about. It was about Carol finding herself and growing and making mistakes and being bolstered up by her female mentors and female friends. And that relationship with Maria was very important. It was something that was, and frankly I give all credit to Lashana [Lynch] who was amazing and who, and I don't know if it's a spoiler or not, but the unique structure of the origin story that this movie has. Initially we were like, is that bond going to be strong enough? Are we having not experienced it in real time upfront when they get to Louisiana? Is it going to land? And we saw the frankly the audition and then the dailies. Oh it's landing there. They're amazing.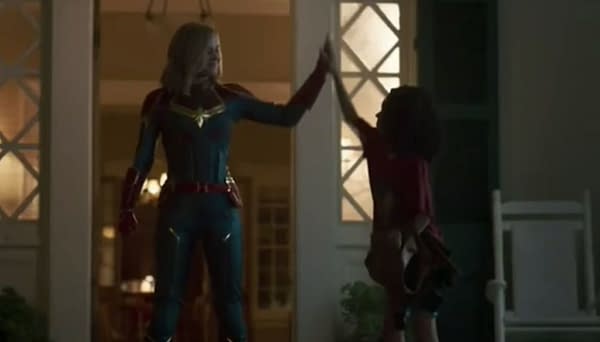 And, how about that other important friendship in the film between Carol and Maria's daughter Monica? There is that wonderful exchange between the two of them before Carol heads off for her big battle, and the knowing calm of Monica. Are we possibly going to be seeing more of Monica in the future?
SR: Yeah, to me that's one of the highlights of the movie. That relationship. One thing too is you already start seeing a glimmer of a hero in young Monica. She already has this spark of hope, but she feels like she's starting to go on her own journey as a hero eventually. Are there plans from Monica in the future?

Kevin Feige: As I sort of said before anything not announced yet or anything post Endgame and Spider-Man is all just full of potential.
Which of course has us wondering if maybe we'll be getting the post Avengers: Endgame team made up of young, strong women leaders.
SR: Captain Marvel also lays a foundation for a future adventure in the superhero Photon [Monica Rambeau]. If you pay attention, you subtly place the next generation of heroes in plain sight, whether it be looking at Cassie and Ant-Man, Shuri or Monica Rambeau. Is there any plan to bring these characters together at some point?

Kevin Feige: That would be fun. That would be a good idea.
Captain Marvel is currently in theaters now, and just passed $911 million at the world box office.