WWE Network Tops 2.12 Million Subscribers, More Than Ever Before
As is tradition for the day after WrestleMania, WWE has revealed their latest WWE Network subscriber counts. WWE's subscriber numbers fluctuate throughout the year, but are highest at WrestleMania time, the pinnacle of WWE's yearly programming. Additionally, WWE's subscribers are always split between paid and free subscriptions, as the company offers a free trial period which is heavily advertised during WrestleMania season.
With that in mind, both paid and free subscribers are up, both by 9%. To illustrate, here's a graphic provided by WWE which is objectively more exciting than the match last night between Shinsuke Nakamura and AJ Styles, as well as some more financial data:

WWE also bragged about WrestleMania becoming the Superdome's "highest grossing entertainment event at $14.1 million, as a sold-out crowd of 78,133 fans from all 50 states and 67 countries attended the event. As part of the week-long WrestleMania celebration, WWE hosts five consecutive nights of events at the Superdome and the Smoothie King Center." Additionally, they said that subscribers watched "25.2 million hours during WrestleMania Week or 14 hours per subscriber during the week," 12% more than last year.
And they plan to continue to grow, according to forward-looking statements, which we assure you are far more interesting to read than the match between Roman Reigns and Brock Lesnar was, at least until Roman started gushing blood, at which point it slightly edged out these numbers:
Q1 2018: Based upon preliminary data, WWE Network attracted an average of approximately 1.56 million paid subscribers over the first quarter 2018, representing a 5% increase from the first-quarter 2017 average. The first quarter 2018 average was in-line with guidance of approximately 1.53 million.3

During the first quarter 2018, the Company realized stronger than anticipated performance. As a result, the Company expects Q1 Adjusted OIBDA of at least $30 million (subject to the completion of its quarterly close process), exceeding its previous guidance of $23 million to $27 million.4

Q2 2018: If the acquisition and retention of subscribers driven by WrestleMania is comparable to the subscriber activity associated with the prior year event, average paid subscribers for the second quarter 2018 would be approximately 1.77 million, representing an increase of approximately 8% from the second quarter 2017.5 As future subscriber performance may differ from prior activity, this range is provided for perspective rather than as guidance.

2018: WWE management continues to expect the Company to achieve another year of record revenue and has raised its target for 2018 Adjusted OIBDA to at least $145 million (excluding stock-based compensation expense), which would be an all-time record, exceeding its previous guidance of at least $140 million.4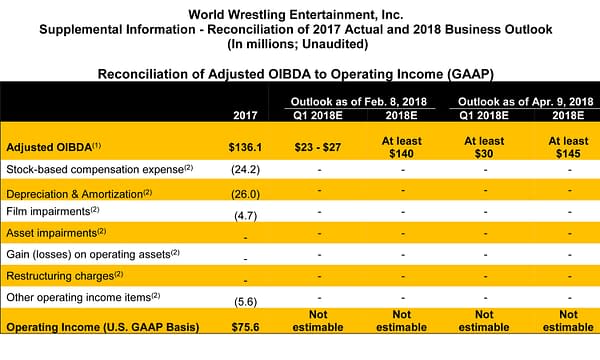 How will tonight's episode of Monday Night Raw top this action? Tune in at 8PM to find out!