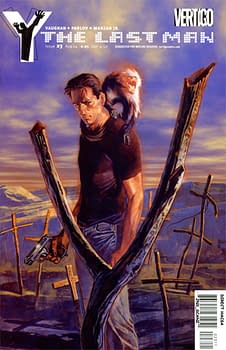 The television adaptation of Brian K. Vaughan and Pia Guerra's Y: The Last Man finally has a showrunner! According to The Hollywood Reporter, Michael Green has been hired to co-write the script with Vaughan and run the FX show. Green was previously serving as co-showrunner with Bryan Fuller on the Starz adaptation of Neil Gaiman's American Gods. Before you get too excited though, it's worth nothing that Green was also one of the screenwriters for Green Lantern, recognized as the fourth worst comic book movie of all time behind Josh Trank's Fantastic Four, Catwoman, and Man of Steel, and barely beating out X3: The Last Stand, Wolverine: Origins, and Howard the Duck.
Y: The Last Man tells the story of Yorick Brown, the last human man on Earth after a devastating plague of unknown origin wipes out all males. Yorrick's pet monkey, Ampersand, also survives. It's based on a true story.
Y: The Last Man was picked up for development by FX last year, after an initial attempt to make it into a movie failed and the rights reverted to its creators. There's no word yet on when this will make it to television, but if you're really dying for a Y: The Last Man TV adaptation sooner, you could always check out LD50.
Enjoyed this article? Share it!