Zak Penn on THAT Scene in 'Ready Player One' and Still Not Rebooting 'The Matrix'
Screenwriter Zak Penn (whose name I type as Zap every time, not intentionally, it just happens on my cpu) has a #1 film at the world box office right now. That's pretty frakking exciting, and I was lucky enough to get to speak with him right after the Los Angeles premiere. Also, no, he's still not rebooting The Matrix.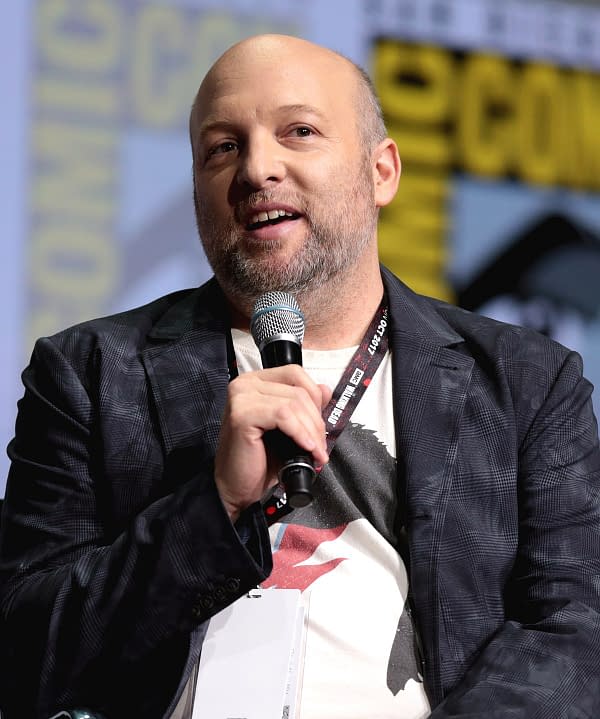 Sworn to promise I wouldn't run this interview 'til well after the film opened, this piece does have some spoilers for certain scenes in RP1. If you haven't seen the film yet and don't want to read such things, please find something else to occupy your time.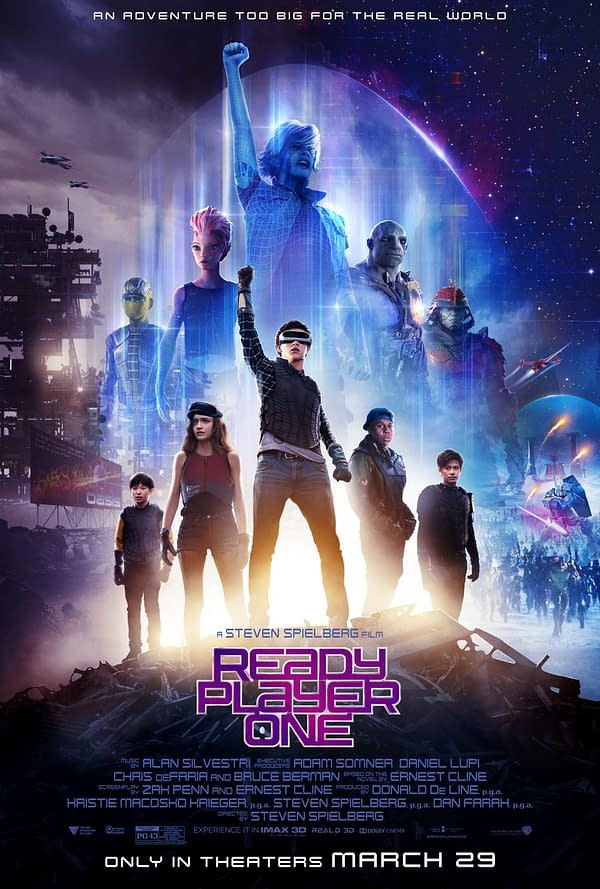 I started out by asking Zak if he had recovered from the weekend (he, Cline, and the main cast of RP1 were at WonderCon for a panel), which he said he had, but then was in the process of recovering from the Hollywood premiere of the film.
There was a photo posted on Zak's twitter account from the afterparty, hanging out with someone Adventure players will recognize:
Mab: How cool was that?
Zak: Yes, it was very exciting to finally meet Warren Robinett, one of my true heroes.
Mab: He's mentioned a few times — what did he think of the film?
Zak: You know, I didn't ask him. We spent most of the time talking about Adventure. Ernie and I just wouldn't shut up about Adventure, how important it was to us. I guess Vince Vaughn was there, who is also a big Adventure fan, and Warren just got bombarded with people who loved his work. (laughs) I probably should have asked him what he thought. Apparently he didn't know he got called out so many times in the movie.
Mab: See, that can be the subject for your next documentary!
[Note: If you haven't seen it, Zak's documentary about finding the long-rumored dumping ground of Atari's ill-fated E.T. game, which also features Ernie Cline.]
Mab: I've actually seen the film twice now- the first was a primarily fans-only screening, and the second was with reviewing press. It was interesting to hear and see the audience's reactions at different parts- some of the IPs they recognized and obviously had fond memories of. What was your experience like getting to see it with another audience last night?
Zak: I saw it at Austin, which might have been the best of any screening of any movie I've ever worked on, it was insane-
Mab: The audio issues?
Zak: Even with it! Honestly, because it added this extra level of tension and excitement, and the fans were with it- clapping and cheering. Normally they walk out, so. Even that was amazing. But LA was great too; it was different, seeing in it such a big theater. You can only really hear the 10 people sitting near you, to gauge what they're reacting to. It's obviously really gratifying, but I gotta say, I'm looking forward to seeing it in a real theater [with a non-hyped audience].
Mab: 3D or standard?
Zak: 3D. It's really good, and I want to check it out.
Mab: I've seen it in both, and I can say I was pleasantly surprised by how good it looked.
Zak: Yeah, I mean normally 3D looks like shit, we can be honest. Spielberg spent a lot of time on it to make it look good. Where did you see it? How different was it?
Mab: An IMAX screen for both standard and 3D. The fan one was awesome- everyone was way into it. They had to turn people away at the door who had been waiting for hours to get into the thing.
Zak: The worst ones are always the people who worked on the movie, you've got to see it with people who want to see it, particularly this movie.
Mab: Okay, so, the Shining sequence in the film. It's not mentioned in the book, it's not in one of the more recent scripts- who came up with that as a concept?
Zak: Okay, but you have to swear this won't run until after it opens, because Steven will kill me if I say what film it is.
Mab: I'll admit, I took my glasses off during the 3D screening to watch the audience react to it, because I knew it was coming, and I'm glad that I did, because of the faces they made. Everybody understood what it was, and that was kind of cool. Soon as you see that lobby, they all knew right away.
Zak: That, out of all the scenes in the movie, is the most collaborative between me and Ernie. We literally were in a trailer on set working on it, and then when he had to leave, we were on the phone. We must have written 20 concepts of how it would happen. I mean even before we did the movie, we came up with a list of movies, ones we thought it should be [for the key challenge].
Honestly, we thought that Steven would never ever go for it, for using The Shining. For obvious reasons, Kubrick was his good friend; it's such a unique film. Once he agreed, it became "okay, but what do we do with this now?" We knew we wanted the sequence to be exciting. I- well, Ernie and I- didn't want it to be movieoke like it is in the book.
We wanted them to have another adventure in the movie, and it took us a while to come up with the concept for it, which was putting aside your own fandom and looking for what's deeper.
And for Ernie, it's incredibly ironic that it's about an author who doesn't like the movie version of his book. And here's Ernie- an author who DOES like the movie version of his book, but contributed to a sequence that's about that very same thing. It took a long time to arrive at that idea.
One of the early ideas was that Aech hadn't seen it, an idea we all kind of liked, because it lends to his experience inside it. I could write a whole essay about the making of that sequence alone, like a whole book on the making of it.
I'll admit, we were so worried about that scene until we saw the first cut of the movie. When I saw it, I was like "oh my god, this is GREAT." You can imagine; you're playing with fire in that sequence.
For me it's one of the most thematically important scenes in the movie, and people are having a good time watching it happen, so they don't pick up on what the scene is actually about. There's a lot going on in there, about what the scene is trying to say about obsessive fandom, about trying to context to other people.
Mab: That's why I love the next scene that follows it, with everyone in the IOI Sixer war room having to play through the sequence, them all reacting to it. Such a good balance between the heart of the previous scene.
Zak: Yeah, I have yet to see a bad reaction to that scene. Even when four of us watched the first cut, we knew it worked.
Mab: Something else I wanted to ask about, you posted on Twitter when that last trailer hit, that you didn't know about that hidden Last Action Hero Easter egg in the race?
Zak: That is true. Ernie is a sly devil, and he convinced Adam Stockhausen and the ILM people to put it in there. It was in literally every review, so I don't know how I missed it. When I saw it, I couldn't believe he'd done that. I was psyched; it was incredibly sweet that he did that, because I'd said no, not to reference any of my movies. But I can't deny I was excited to see it.
[Zak shared a pretty neat piece of art based on Last Action Hero that the WB marketing department sent him for his birthday (March 30th) featuring Aech (Lena Waithe).]
It's funny; I have such mixed feelings on it. I was young, it was the first script I ever wrote, I was 22. But it seems to have inspired many people, including Ernie, so I'm happy people feel good about it.
Mab: Pretty neat full circle then, the thing you started on influencing the thing you just worked on.
Zak: You're right, it is. In a lot of ways, I feel like the sequence in question is kind of what I wanted Last Action Hero to be more like. But also as Ernie has pointed out, that idea of going into a movie was really influential for him. And this movie gave me the opportunity to do a lot of the things I wanted to do, but didn't make it into the final film.
Mab: Also [I laugh so he knows I'm totally kidding and not actually pestering him about this] you're sure you're NOT rebooting The Matrix?
Zak: I've gone on the record so many times: I'm not rebooting The Matrix. It's so silly that people won't listen about it.
***
Thanks so much to Zak Penn for his time, keep an eye out for him at Los Angeles theaters as he was doing a giveaway over the weekend to any eagle-eyed cinemagoers who could correctly identify what shirt he was wearing.
Ready Player One is currently in theaters worldwide.