Just when you thought three Austin Powers films were plenty — Mike Myers has a crazy idea for a fourth one. I mean, honestly, at this point ANY ideas for additional Powers films would kind of have to be crazy to work.
The Canadian writer-director-actor has been doing the press rounds to talk about his newest feature film, Terminal. We'll have a review of the film and an interview with the writer/director Vaughn Stein for you guys tomorrow, the day the film opens.
Myers stopped by Entertainment Tonight to talk about his role, which I have to tell you is VERY different than you're used to seeing from him. This is a good thing, because when pushed outside of the typical "Mike Myers" performance, his drama and suspense chops are admirable.
During his ET interview, Myers dropped a bit of a tease about how he would approach a fourth Powers film — from the point of view of Doctor Evil.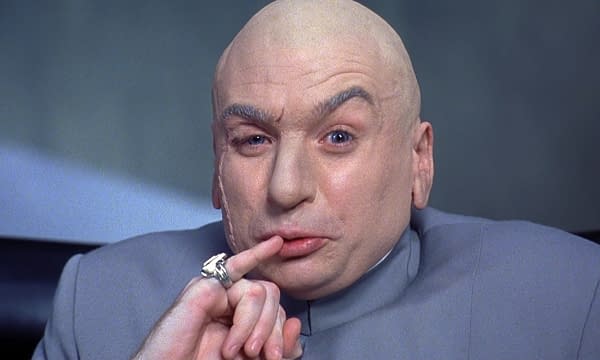 "I would love to do a movie from Dr. Evil's perspective. So it would be Dr. Evil 1, Austin Powers 4, is how I would roll. Start the campaign, please. Thank you," Myers said.
While this is no where near being a real thing, Doctor Evil did make a recent appearance on The Tonight Show Starring Jimmy Fallon, where he was another casualty of the Trump Cabinet. So at least we know he's not completely opposed to donning the wig cap and extended pinkie.
Terminal opens in select theaters on Friday May 11th.
Enjoyed this article? Share it!