Book Review: Kiera Drake's 'The Continent' is a Refreshing, Enjoyable Read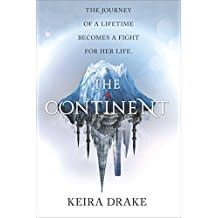 [rwp-review-recap id="0"]
Kiera Drake makes her novel debut with The Continent. As a friend of hers, I felt compelled to read it; my curiosity was drawn by the cover and had an interest in what she wrote. The book is 336 pages and is aimed at a teen audience.
Taking cue from the long literary history of stories about a person out of their society, the protagonist, Vaela, finds herself stranded on a mysterious continent during a tourist trip. She must face the hard lessons of learning self-sufficiency and integrating herself in an alien society while taking a hard look at the values of the society she grew up with, as well as her native society's sense of superiority.
The story is fast-paced and readable, and I found it had a decent narrative voice. The clash of cultures was interesting, and it did not shy away from the violence of close combat. Romance, while a part of the story, remained discreet — this is a teen romance that doesn't stray into bodice-ripper territory. The plot overall was simple and enjoyable, with a few twists I didn't see coming. Vaela is not the most beautiful person in any room, nor the wisest, nor the fastest learner; and it was nice to see a story where a female lead isn't fawned over or instantly the best at everything.
A section I did have issues with was the main character's learning of farming and dealing with livestock. Being as cattle — bulls, in specific — are made to take on things with their noggin, I didn't find banging one on the head a realistic way of dropping one to its knees. But the age of the bull wasn't detailed, and it might just be sticking out because I know of quite a few people who have grown up and lived on farms around large livestock. I would have also enjoyed a bit more of information on the various peoples' ways of life. Which plants did they grow? Which animals did they eat? How did the people deal with the issues of degradation of land from plants or livestock? I would have also preferred an ending that was a bit less deus ex machina; but I haven't actually read a decent use of that in a while, so while it wasn't my preference, it wasn't bad.
All in all, I think this was a decent book, in a longstanding literary tradition. It was an easy, enjoyable read and left plenty to be explored in the next book, without feeling incomplete in of itself. If parents are worried about untoward scenes, this one doesn't falter into the land of the lewd like some teen-aimed books do, and it was interesting to see a chaste couple for once. Do you like books about people exploring unfamiliar cultures and worlds and don't have time for scientific minutia, or spending weeks on a book? This is a book for you!
[rwp-review-ratings id="0"]
[rwp-review-form id="0"]