I sat down at my computer this morning to begin work, checked me email and realized my first article was staring back at me. It wasn't interview questions returned or a new released from a publisher or even a new trailer… it was an email from Audible. In the last year and a half I have become addicted to audio books having gone through well over 50 books in that time and still going. I love them as I can enjoy a book while driving or doing certain work… because I never have time to just sit down and read. Plus, some of the performances are amazing. Listening to James Marsters (Buffy the Vampire Slayer) reading the Dresden Files books by Jim Butcher brings them to life in a completely different way than just reading the books.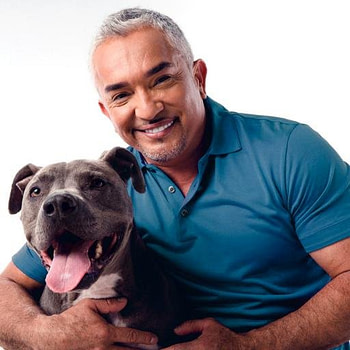 When a new Audible email comes in, I always check it and this time I was stunned to see what they were talking about. Cesar Milan was promoting audible books for your dog. Yes, the guy that comes into your house and helps you with your canine friend is now recommending books to play while you are away. Cesar says, "One of the most difficult things for a dog is to be away from their family. With Audible, the dog has company." There is even a free audiobook to help you, Cesar Milan's Guide to Audiobooks for Your Dog. They've done videos with an introduction to the concept and a case study with a very nice lady Leslie and her dog Buddy. Leslie feels guilty leaving Buddy home alone and has Alexa play an audiobook for Buddy so he feels like he has company.
Here… these are the videos:
https://youtu.be/A2X4Sfh59p4
I love dogs, as many of you know from previous mentions, that I have a rescue pitbull named Artemis. And I do feel guilty when I'm going away for a long period of time. And I can see where the sound of voices could conceivably keep a dog calm when they're alone. But couldn't you get the exact same thing by leaving the television or talk radio on? And that leads to so many other questions like… do the dogs follow the story? Do I need to play the rest of the book the next day? Do different dogs like different genres? Can you play the same book over again or do dogs remember? And what about cats? Are they to good to listen to books?
This seems like a pretty brilliant marketing tool to get dog owners to buy an Amazon Echo so they can play the books for your dog. And Cesar even has some books he recommends including The Art of Racing in the Rain by Garth Stein, a book written from a dog's perspective.
https://youtu.be/0SaKYU7OQY0
And if this takes off… then I'll be starting work on my next novel, a noir detective series about a dog that deals with the supernatural in 1950's New York…