Did 'Ready Player One' Hype Translate to Box Office Success?
[Editor's Note: This 'Ready Player One' piece comes to us from Bleeding Cool contributor Dana Han-Klein of The DHK who takes a look at the pre-theatrical release hype at WonderCon and how it showed at the weekend box office results.]
Well the world has now seen Steven Spielberg's interpretation of Ready Player One and the big question is did it live up to the hype?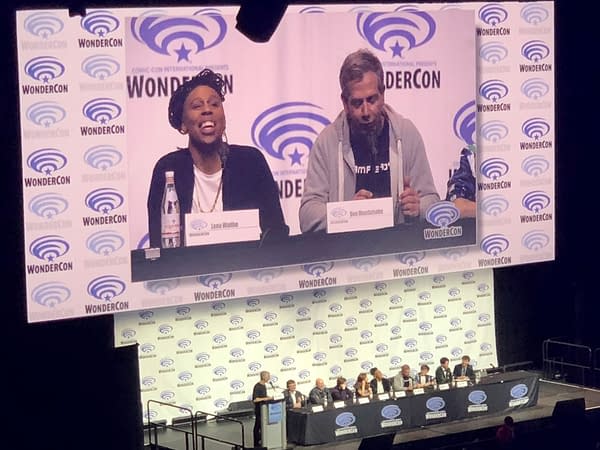 If the packed arena at WonderCon was any indication (I literally had to sit at the VERY last row of the room), fans wanted to welcome the film with open arms. The panel of screenwriters Ernest Cline (author of the original novel and collaborator on the film's script) and Zak Penn, along with film stars Tye Sheridan, Olivia Cooke, Lena Waithe, Ben Mendelsohn, Philip Zhao, and Win Morisaki were charming as all get out.
They regaled the audience with tales of working with Spielberg on set. Hollywood newcomers Zhao and Morisaki were adorable reccounting their experiences (for the record, Morisaki was blown away by the expansive craft services table). Waithe told the tale of her first experience doing the mocap performance as The Iron Giant, and how thanks to onset rendering capabilities, she could see herself and her acting/movement coach both as the giant, thus resulting in "It's two Iron Giants walking around, chilling."
Mendelsohn joked (or did he?) that he loves playing the bad guy because "The pay is better".
"The first time I met Steven it was at a little French restaurant, it was just the two of us. He had a hard time looking at me for a long time. You know, he was shy," Mendelsohn said.
"He was starstruck!" Waithe interjected.
"You know, I don't wanna…. Maybe?" Ben continued.
"So handsome, I know he's handsome," Waithe responded.
"I know he'd seen Bloodline, and he was very affected by that on a lot of levels. And um, you know eventually he sort of relaxed enough to talk. And then you know he made his offer, and I said you know Steve I'll think about it. I'll get back to you on that," Ben finished.
Sheridan and Cooke reminisced about filming their first scenes with Spielberg, and having to adapt to the mocap performances. Sheridan's (and Waithe's) first scenes both being dance sequences, and Cooke's first scene being with Mark Rylance:
Cooke: "We're in motion capture and we're wearing very tight suits and we've got dots all over our face and the head cams on. And I was trying do this very nuanced performance and was trying to really impress, and Steven came up to me and said 'you're going to have to be a bit bigger than that because I can't see what you're doing."
[Editor's note: you can read more about the rest of the WonderCon RP1 panel here.]
There's an undeniable love for Ready Player One, and never have I been to a panel where an author/screenwriter was asked more audience questions than the actors were.
So did the film do the fans justice?
Perhaps it's because the book is geared towards those who take joy in deep diving into details and easter eggs, and the film changes many of those things, but the reception overall seems to be lukewarm. Die-hard fans of the book have more or less rejected the film version (though generally agree that there are enjoyable elements, but at the end of the day it's just not the book).
General cinema-goers relatively embraced it, propelling it to a four-day debut of $53 million domestic, and a worldwide box of roughly $181 million. While it seems like a healthy take, Black Panther had a four-day opening of $235 Million and not over a holiday weekend.
I for one wanted to like the film more than I did. Watching the panel at WonderCon showcased how much charisma all of the stars had, how funny and thoughtful the writers could be, and how people were rooting for the film to succeed. All the elements seemed to be there, plus Steven Spielberg!
Perhaps it was the excessive amount of time the actors spend in CG form, the numerous plot changes that felt like they dumbed down the complexity of the original material, or the overwhelming amount of visual/reference stimuli that felt like it distracted from the story, but something things got lost in translation.When it comes down to it, I almost had more fun listening to the cast and writers talk about the experience of making the film during that WonderCon panel than I did viewing the resulting film.
WB's Ready Player One is currently in theaters worldwide.