American Horror Story Season 8: Sarah Paulson Might Need a Dentist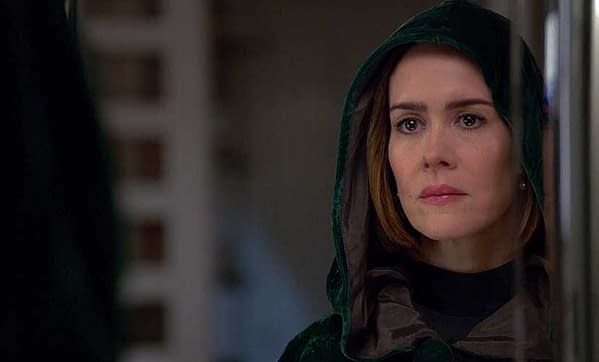 Television's own MacGyver, Ryan Murphy, spent his time at the Television Critics Association (TSA) press tour in Pasadena on Friday promoting Pose, 9-1-1 and American Crime Story: The Assassination of Gianni Versace; but the writer/director/producer/key grip/set caterer didn't leave American Horror Story fans empty-handed. Though Murphy began teasing Season 7 much earlier and more frequently than previous seasons, fans haven't really come to expect anything but static regarding any production updates in January.
Here's what Murphy had to say about American Horror Story Season 8 — and beyond: ● American Horror Story fans started rolling out a wide range of reactions when Murphy stated that Season 8 would be set some time in the future, and will be wholly different from any of the previous seasons: "It's set in the near future. It has nothing to do with anything you've ever seen before. It's really chilling." / "All I'll say is that I want to go to the future."
● As for what role series power-hitter Murphy star player Sarah Paulson will have, Murphy would only tease her character's look (and it definitely goes a long way towards confirming that whole "nothing to do with anything you've ever seen before" comment from earlier): "Sarah Paulson is very excited about the dental appliances she will be wearing on the show." It will be interesting to see if Murphy is able to do for dentists what he did for clowns during the show's seventh season run (not like either of them need any more bad PR).
● Adding an extra layer of surprise, Murphy gave us a glimpse into American Horror Story's future beyond the eighth season — and that future involves the long-rumored Murder House/Coven crossover: "It's not next season, it will likely be the one (Season 9) after that."
● When it comes to timing and as to when seasons premiere, Murphy understands the expectations of fans and the networks; but he won't sacrifice quality in the process: "I'm not going to shoot anything until it's written, and it's perfectly cast, and I get great number twos in terms of showrunners and directors."