Fear the Walking Dead Season 4: Danay Garcia's Luciana Set to Return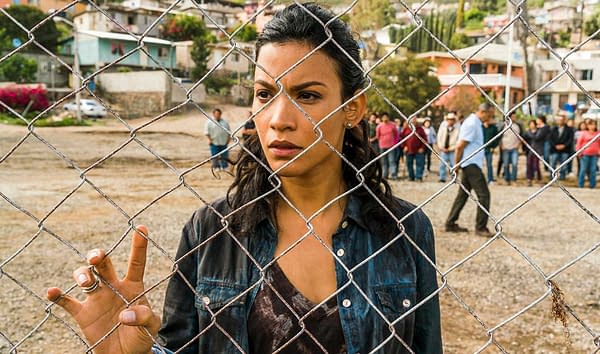 With newcomers Lennie James, Jenna Elfman, Maggie Grace and Garret Dillahunt set to join AMC's Fear the Walking Dead when it begins it's fourth season on April 15th, it seems that things are getting a little crowded on the set. But like the old saying goes, there's always room for one more – especially when that "one more" is an old friend.
Though her character has been MIA since early in Season 3, Danay Garcia took to Instagram to both reassure and confirm for fans that her character Luciana would be returning to the Robert Kirkman-created Walking Dead spinoff in Season 4. Her her post, she revealed her return to Fear the Walking Dead by posing with a cast and screw hat from the series and the following message:
"To those of you who keep asking, let me just make it official! I'm living La Vida Loca in the apocalypse. And for those of you who haven't heard, we are returning this coming April 15th!"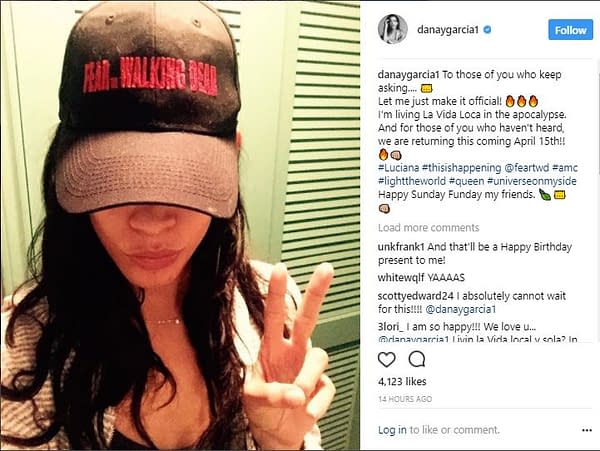 Garcia's Luciana chose to not work with the racist group residing on Broke Jaw Ranch, leaving at the beginning of Season 3. Luciana did return briefly — in Madison Clark's (Kim Dickens) dream — during the third season finale, where she was seen holding an infant walker-baby and married to Madison's son Nick (Frank Dillane); as the family grieved over Alicia Clark's (Alycia Debnam-Carey) grave.
In a interview with NME from August 2017, Garcia spoke about the changes she's seen over the course of her character's arc:
"She's a different animal, for sure. Now more than ever, she's gonna fight for herself and her values, because that's the only thing that kept her sane and safe. All kinds of characters, they're twisted, they have these dark sides that come out at different times. For her, it's more like straightforward. You cannot cross the line. If you cross the line, you have to get out, and if you're not out, I leave. She's that kind of woman." Fear the Walking Dead: In season four, the world of Madison Clark (Kim Dickens) and her family is seen through the eyes of Walking Dead crossover character Morgan Jones (Lennie James). The characters meet new friends, foes and threats, battling against a legion of the dead and, at times, each other.
Fear the Walking Dead returns for Season 4 on Sunday, April 15th at 10 p.m. ET/PT; with subsequent episodes airing Sundays at 9 p.m. ET/PT starting April 22th. Produced by AMC Studios, Fear the Walking Dead is executive produced by Scott M. Gimple, showrunners Andrew Chambliss and Ian Goldberg, as well as Kirkman, David Alpert, Gale Anne Hurd and Greg Nicotero.