The Punisher Season 2: Netflix Adds Shooter's Josh Stewart, 2 More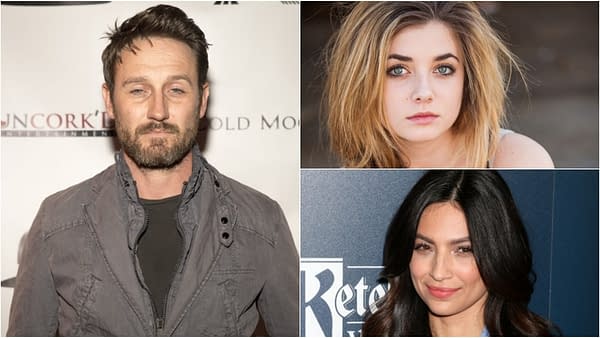 For a man who usually prefers to operate alone, Frank Castle's (Jon Bernthal) second season world is about to get a little too cozy for comfort. Netflix has announced that Josh Stewart (Shooter), Floriana Lima (Supergirl) and Giorgia Whigham (Scream) will be joining the cast of Marvel's The Punisher for season 2 as new series regulars. The three will be joining Bernthal and returning cast members Ben Barnes (Billy Russo), Amber Rose Revah (Dinah Madani) and Jason R. Moore (Curtis Hoyle).
"Josh, Floriana and Giorgia are all remarkable talents and we can't wait for the audience to see what we have in store for them in the second season of Marvel's The Punisher."

– Jeph Loeb, Marvel Television / Executive Producer, The Punisher Based on exclusive reporting from Deadline Hollywood, Stewart's (Insidious: The Last Key) John Pilgrim is described as a man whose calm exterior belies a ruthless interior. Despite having left behind a life of violence, circumstances will force him to use his old skills and bring him into Frank Castle's world. Lima's (Lethal Weapon) Krista Dumont is a smart, compassionate, and driven psychotherapist for military veterans; while Whigham's (Sierra Burgess is a Loser) Amy Bendix is street-smart grifter with a mysterious past.
"We are incredibly excited to have Josh, Floriana and Giorgia joining the cast of Marvel's The Punisher and seeing them bring their talents to the next chapter in the Frank Castle story." – Steve Lightfoot, Executive Producer/Showrunner, The Punisher
Here's a look at the two official teasers for season 1 of The Punisher, with all 13 episodes currently streaming on Netflix; as well as a look at the streaming service's season 2 renewal comment:
https://www.youtube.com/watch?v=lIY6zFL95hE
After exacting revenge on those responsible for the death of his wife and children, Frank Castle (Jon Bernthal) uncovers a conspiracy that runs far deeper than New York's criminal underworld. Now known throughout the city as The Punisher, he must discover the truth about injustices that affect more than his family alone.

Marvel's The Punisher Season 1 was executive produced by showrunner Steve Lightfoot (Hannibal), Jim Chory (Marvel's Daredevil, Marvel's Jessica Jones, Marvel's Luke Cage) and Jeph Loeb (Marvel's Daredevil, Marvel's Jessica Jones, Marvel's Luke Cage) who also serves as Marvel's Head of Television. Marvel's The Punisher is produced by Marvel Television in association with ABC Studios for Netflix.

Marvel's The Punisher Season 1 cast featured Ebon Moss-Bachrach (Girls, The Lake House), Deborah Ann Woll (Marvel's Daredevil, True Blood), Ben Barnes (Westworld, The Chronicles of Narnia), Amber Rose Revah (Emerald City, Indian Summers), Michael Nathanson (The Knick, Wolf of Wall Street), Jaime Ray Newman (Bates Motel), Jason R Moore (A Lonely Place for Dying), Daniel Webber (11.22.63) and Paul Schulze (Nurse Jackie).