Siren: Freeform Weaves a Web of Mermaid Mystery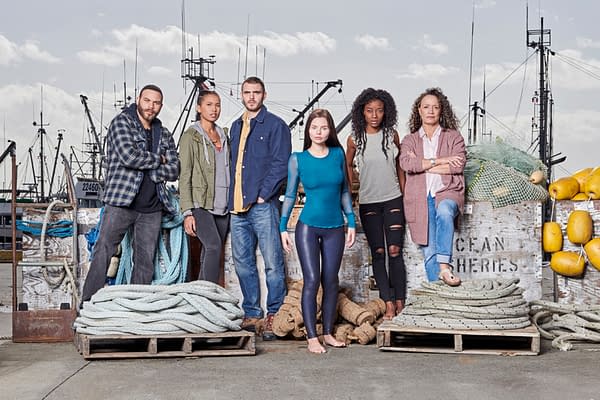 Here's the thing about mermaids: you're never quite sure if you're going to get the sweet, song-filled type of the Ariel persuasion; or the ones whose "sweet songs" basically seduce you into jumping off your boat and either drowning or eaten by sharks — not sure there's a lesser of two evils there. From our first look at Freeform's Siren, it looks like we might be getting a little bit of both. A young girl's mysterious appearance in the small fishing village of Bristol Cove could prove to be a miracle of nature — or a harbinger of horrors yet to come.
You can check out the first teaser for Siren here:
In the epic tale, the coastal town of Bristol Cove, known for its legend of once being home to mermaids, is turned upside down when a mysterious girl (Eline Powell) appears and begins wreaking havoc upon the small fishing town. Using their resources, marine biologists Ben (Alex Roe) and Maddie (Fola Evans-Akingbola) must work together to find out who and what drove this primal hunter of the deep sea to land, and are there more like her out there? "Siren" is based on a story by Eric Wald and Dean White who both serve as executive producers. Emily Whitesell ("Finding Carter") serves as showrunner and executive producer. Brad Luff, Nate Hopper and RD Robb also serve as executive producers.
Supergirl's Curtis Lum spoke with Tell-Tale TV and gave readers a little insight in what viewers can expect:
"The mermaids have been pushed away from that town for whatever reason. And in this show they [might] be coming back. I play one of the fishermen [who] may or may not have found and been in contact with the first mermaid, and the story continues from there."
Siren premieres on Freeform on Thursday, March 29th — which also happens to be International Mermaid Day.