Stephen King on Castle Rock: "I'm as Much in the Dark as Anybody Else"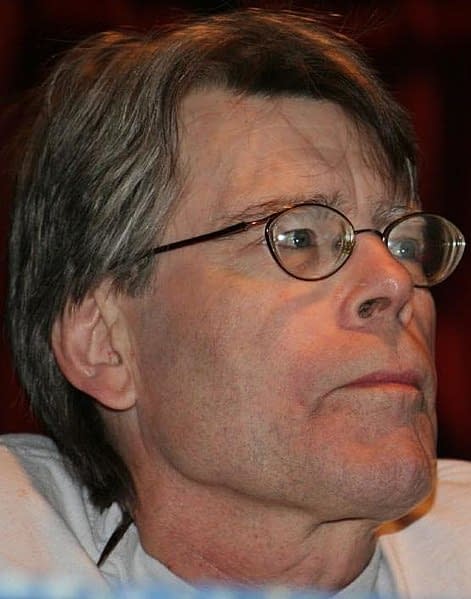 Created by Sam Shaw (Masters of Sex) and Dustin Thomason (Lie to Me), Hulu's psychological suspense / thriller series Castle Rock is bringing together common elements from a number of Stephen King's works to create a terrifyingly new "shared universe." The fictional town of Castle Rock has figured prominently in works such as: Cujo, The Dark Half, It, Needful Things, the novella "The Body" (the basis for the film Stand by Me) and short story "Rita Hayworth and the Shawshank Redemption" (the basis for the film The Shawshank Redemption).
https://youtu.be/K3U7Z94NHgg
Production news on the series has been scarce: even with the opportunity to interview Shaw and Thomason as well as stars Bill Skargard, Andre Holland and Melanie Lynskey at New York Comic Con (NYCC) 2017, their answers were very scarce on specifics. Now having read King's most recent interview with Entertainment Weekly on a wide range of topics, we've learned to not take it personally. It's hard to when the man whose works are the basis for the series isn't even sure what's going on with it.
Following up on King's comments regarding his two newest Castle Rock-connected works, Gwendy's Button Box and Elevation, EW writer Anthony Breznican asked the author for a status update on the series – but it appears it might've been better if King asked Breznican for an update:
EW: Now J.J. Abrams and Sam Shaw (the nuclear bomb drama Manhattan) are using Castle Rock as the backdrop for an original Stephen King-themed TV series on Hulu.

King: I'm as much in the dark as anybody else. I don't know anything about it so I just hope it turns out really well. It must be going okay. It's typical J.J. There's been nothing that I've seen in the press, or anything, about it.
For their part, Shaw and Thomason are self-confessed King "geeks" who developed the project and are executive producing alongside Abrams, Ben Stephenson, and Liz Glotzer. During our roundtable interview session with them at NYCC, Shaw and Thomason discussed how Castle Rock gave them the opportunity to turn their hours of Castle Rock connect-the-dots in their personal time into a television series; the importance of The Shawshank Redemption on the show's first season; and how a second season of Castle Rock would differ from the first:
Castle Rock also boasts an impressive line-up of genre veterans; including Scott Glenn as King's beloved retired sheriff Alan Pangborn, who may be needed yet again to maintain the peace in Castle Rock. Sissy Spacek plays Ruth Deaver, Henry's adoptive mother and retired professor whose aging insight into the darker places of Castle Rock's past might hold the key to uncovering the truth. Jane Levy is on-board as Jackie, the death-obsessed self-appointed historian of Castle Rock and (possible) ally for Henry; and Terry O'Quinn has been tapped to play Dale Lacy, described as a "pillar of the community" in the town.