Mid-to-late June usually means the visage of the Gaslamp District in San Diego turns pop culture with the imminent arrival of San Diego Comic-Con (SDCC). In years past, this means the signature building wraps on the Omni, Hilton Bayfront, and Marriott hotels go on, rickshaws and petticabs sport familiar themes and logos, and the lamp posters arrive.
This image comes to us from Pat Loika, a photographer and personality who is no stranger to the world of comics and cons, and the comic cons that celebrate pop culture. He posted a photo today of some of the Gaslamp lamps, featuring some of the anniversary posters of the Marvel Cinematic Universe celebrating 10 years of heroes.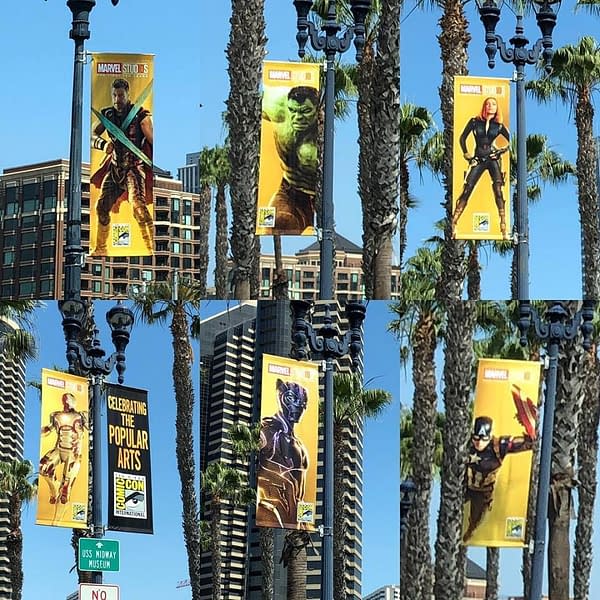 This selection of posters features Marvel Studios heroes Thor, The Hulk, Black Widow, Iron Man, Black Panther, and Captain America. There were literally dozens of posters released earlier this month, you can see those here.
No, this doesn't mean Marvel Studios is suddenly changing their "no Hall H" policy this year, as we know there will be a Marvel booth on the floor of the convention.
We will of course bring you all kinds of coverage from 2018's SDCC, which happens July 19th-22nd.
Enjoyed this article? Share it!