In the days before lockdown, when everything was up in the air in early March, my kids school was closed for deep cleaning after pupils had returned from a ski trip to Italy. But no one knew what was actually happening or going to happen in London. So I took a socially distanced trip with my youngest into town. We saw a performance of A Comedy About A Bank Robbery in the West End for £11 each in a half-empty theatre and then went to an eerily empty Camden for her favourite restaurant, the Cereal Killer Cafe. Looking back, even going out with hand santisier and keeping our distance, it was a risk but it's one I'm glad we took.
Because today the Cereal Killer Cafe has announced that, as many places are coming out of lockdown, it won't be. And both their stores, in Camden and ion Brock Lane will be shuttering for good. When they launched five years ago, it was utterly mocked by media. A restaurant that just tells overpriced cereal? Clearly the Nathan Barley-ish ridiculousness that the Shoreditch and Hoxton hipsters were well known for. But it ended up becoming a family destination from all over London and beyond. The rise of the Instagram generation also helped popularise their weird and wonderful concoctions. And my own kids gained social status by me taking them there with their friends. It turns out that we were two of their last customers. And now the word has gone out;
Cheerio to our Cafes

After 5.5 years we will be saying Cheerio to our Cafes, for now. After a long period of closure due to Coronavirus, and with the future of the hospitality industry looking very uncertain, we have made a decision that our Cafes on Brick Lane and Camden will not reopen their doors.

But it's not all bad news, you can still buy all the awesome unique and hard to find Cereal we are famous for on our website. Cereal Killer will carry on as an online store selling the world's best boxes of Cereal, we also have loads of toppings and a Cereal subscription box for the cereal super fan.

This is not Cheerio forever, we have goals of seeing our Café open again, but due to the current climate it won't be financially viable for us to run our Cafes. Fast forward a year or 2 and we hope to re-open our doors, but until then we will be putting our efforts into growing our online store, creating our own line of products and delivering awesome cereal.

Over the last 5.5 years, we have sold over 1 million bowls of cereal and made a lot of people smile with our 90s themed cafes and cereal themed menu. We have released a cookbook, been in countless press, and TV shows, inspired a musical, and instigated a riot! We couldn't have done any of this without the support of all you amazing cereal fans, so thank you all for letting us live our dreams!

But for now, please keep support Cereal Killer and get awesome cereal delivered to your door.

And to your cafes, we will see you spoon.
I've just told the girls. Bowled over by the news, they are in pieces, and they are completely cereal about this. Hey, any puns they can do, we can do better. But I'm not going to milk it.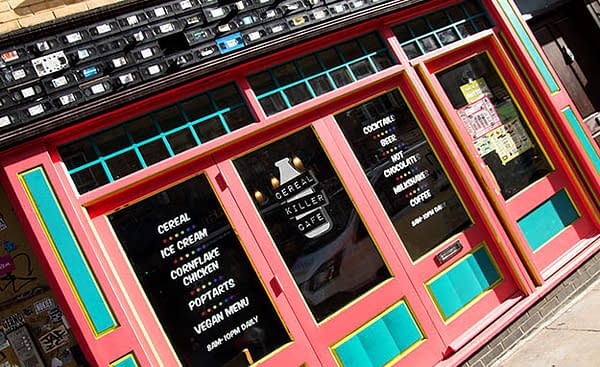 Enjoyed this article? Share it!