Rockstar Recovery Launches New Strawberry Lemonade Flavor
Rockstar Energy has a couple new flavors for you to try from the Recovery line, highlighted by Strawberry Lemonade.
---
Rockstar Energy has announced a new addition to their Recovery line as we're getting a new Strawberry Lemonade flavor. In an effort to give gamers and others who enjoy their lineup a few new options, they've added a couple of new strawberry-centric flavors to the mix as you'll have the Lemonade flavor, as well as Strawberry Peach, which offers up an interesting flavor profile to the mix. Along with a couple of brightly colored cans that will be a standout in almost any drink aisle. It's pretty interesting to see them expand the Recovery line with some new options as they establish the brand on a wider scale, offering up an option that isn't one of their higher caffeine energy drinks. We got more details about both flavors for you below as these should be hitting store shelves pretty soon.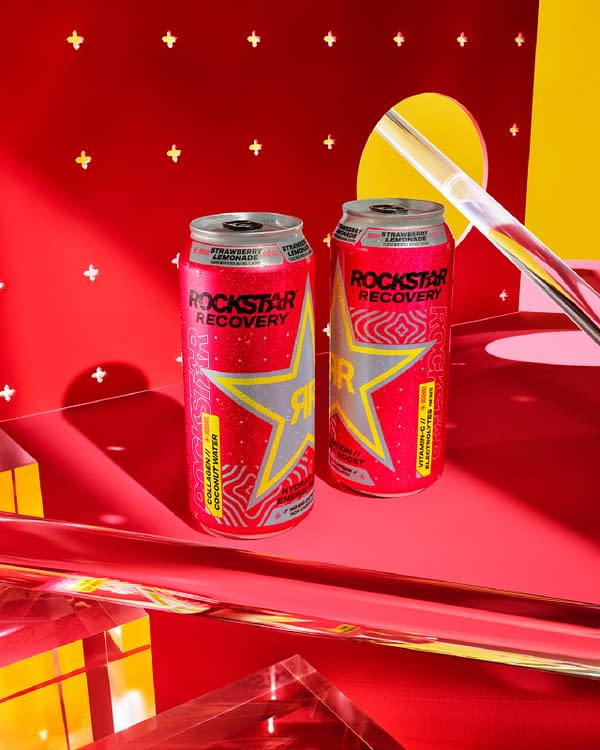 "Enjoy this next-level flavor in Rockstar Punched for a taste of real sugar, mixed with ingredients such as guarana, taurine, and b-vitamins. Or in Rockstar Pure Zero to get the same great Strawberry Peach taste without the sugar and at only 20 calories. No matter which you prefer, each can contains 240mg of caffeine to deliver energy to hustle on. The newest flavor, which joins the original Rockstar Recovery Orangeade and Lemonade flavors, features key ingredients of coconut water, 100% daily value of vitamin C, and 160mg of caffeine that provides energy to help you reset to perform and refreshing hydration. It also includes collagen, an ingredient that is trending high on many consumers' radar when it comes to their daily beverage choices."
Ingredients
Punched Strawberry Peach:
Guarana
Taurine
B-Vitamins
240mg Caffeine
Pure Zero Strawberry Peach:
Taurine
B-Vitamins
240mg Caffeine
Zero Sugar
20 Calories
Recovery Strawberry Lemonade:
Collagen
Coconut Water
Vitamin C
Electrolytes for Taste
B-Vitamins
160mg Caffeine
No Added Sugar
20 Calories