30 Rock Co-Creators, NBCU Remove 4 Eps Over Characters in Blackface
30 Rock co-creators Tina Fey and Robert Carlock, and NBCUniversal have made the decision to remove four episodes featuring characters in blackface from streaming services and syndication. The episodes Fey and Carlock requested removed included "Believe In The Stars" (s03e02), "Christmas Attack Zone" (s05e10), "Live from Studio 6H" (s06e19), and the east coast edition of "The Live Show" (s05e04). NBC Universal is also removing the episodes from its sales platform, and currently working to remove the episodes from third-party runs. Hulu, Amazon Prime, iTunes, and Google Play are expected to remove the episodes by the end of this week.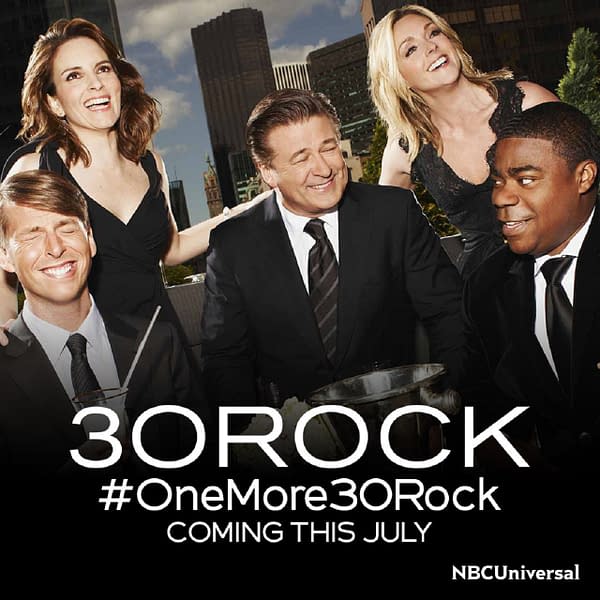 Fey had this to say about the decision: "As we strive to do the work and do better in regards to race in America, we believe that these episodes featuring actors in race-changing makeup are best taken out of circulation. I understand now that 'intent; is not a free pass for white people to use these images. I apologize for the pain they have caused. Going forward, no comedy-loving kid needs to stumble on these tropes and be stung by their ugliness. I thank NBCUniversal for honoring this request."
Last Tuesday, NBCUniversal announced that 30 Rock would be returning for a special Upfront event. Because of COVID-19 production restrictions, the event will have to be online but will also be made available to the public. Not only will viewers be treated to the award-winning series' one-time-only return, but also to previews of upcoming 2020-2021 programming across the NBCU family (NBC, Telemundo, USA Network, SYFY, E!, Bravo, and more). Directed by Oz Rodriguez (Saturday Night Live), the hour-long, commercial-free event will premiere on NBC on Thursday, July 16 at 8 pm ET. USA Network, Bravo, E!, Oxygen, SYFY, CNBC, and streaming service Peacock will air the special on Friday, July 17 at 9 pm ET. Broadway Video and Little Stranger, Inc. produce, in association with Universal Television and NBCUniversal Creative Partnerships.