5 Things to Watch on TV Today – January 4th, 2018
It is colder in Minnesota right now than it is on the surface of Mars. That's not a joke. That's the reality of today. So call your office, tell them you're not Matt Damon and you'll be in when Hell thaws out again. And while you're at home, it's a good time to binge watch the Netflix, Prime, or Hulu show you've been eyeing. How about Marvel's Runaways? Future Man? Bosch, or if you haven't seen it already, the two seasons of Stranger Things? But don't go too far down the rabbit hole, as there are still some good things on television tonight — including these five shows.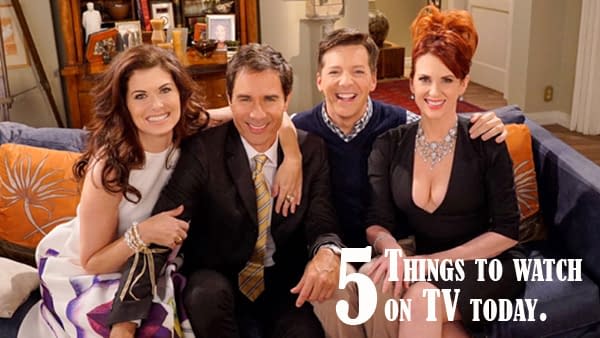 Fox debuts their new signing competition series The Four. As the name might suggest, four singers battle against new arrivals each week in hopes of maintaining their spot in the competition. Sean "Diddy" Combs, DJ Khaled, Meghan Trainor, and record label exec Charlie Walk serve as judges; Fergie hosts. It may be worth turning in for just to see how this differs from the other singing competitions on the air. I still remember the early days when it was only American Idol and everyone was torn between Ruben Studdard and Clay Aiken. The Four debuts at 8 p.m. on Fox.
If you're looking for a documentary, ABC has Truth and Lies: Waco. This two-hour special takes a look at new information about the deadly 51-day standoff between cult leader David Koresh and the FBI. The 1993 siege of the Branch Davidian compound in Waco, TX., played out on national television and put the spotlight on both cult activities and the procedures of the Federal Bureau of Investigation. Truth and Lies: Waco airs at 9 p.m. tonight on ABC.
About as far from the Waco story as you can get is the Season 6 premiere of Project Runway All Stars. The way this one works pits eight All Star rookies against eight returning All-Star vets. Returning veterans include Anthony Williams, Ari South, Casanova, Fabio Casta, Helen Castillo, Joshua McKinley, Ken Laurence and Melissa Fleis. The series kicks off tonight at 9 p.m. on Lifetime.
Over on Syfy, we have the second season finale of Van Helsing. Family secrets are exposed and the true face of evil is revealed. Or, at least, that's what the synopsis says. Van Helsing is inspired by the Zenescope comics series and stars Kelly Overton, Jonathan Scarfe, and Vincent Gale. The show was renewed for a third season last week. Van Helsing airs tonight at 9 p.m. on Syfy.
And finally, Will & Grace may have the best synopsis of the night as Will (Eric McCormack) and Grace (Debra Messing) discover that they're dating the same guy (Nick Offerman); Jack (Sean Hayes) and Karen (Megan Mullally) seek medical attention after an annoying jingle gets stuck in their heads. I love the idea that they're both dating Offerman, but going to the doctor because you can't get a song out of your head should make for brilliant comedy. Will & Grace airs tonight at 9 p.m. on NBC.