AEW Rampage Preview: Everything to Know About Tonight's Show
The Chadster tries to reckon with the thought of Tony Khan owning WWE as he provides an objective, unbiased preview of tonight's AEW Rampage.
---
The Chadster hasn't been having an easy week with all the negative media attention his beloved WWE has been getting, so The Chadster was in NO MOOD for any shenanigans from Tony Khan when he learned that Khan could be bidding to purchase WWE. The Chadster can't believe that Tony Khan would be willing to go to such lengths, spending billions of dollars, just to make The Chadster's life miserable, but that's what he's doing and The Chadster is just so cheesed off about it! And to top it all off, now The Chadster has been ordered to write a preview of tonight's episode of AEW Rampage by his editor, Ray Flook, who is clearly on Tony Khan's payroll.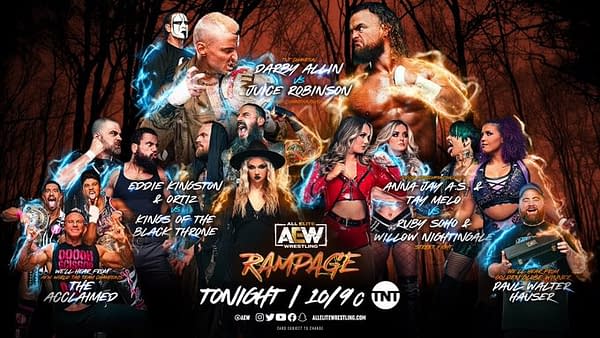 The Chadster is floored at the unfairness of it all, but even so, The Chadster knows that the readers of Bleeding Cool have come to expect a certain level of professionalism from The Chadster, the only unbiased journalist in the entire wrestling business Ryan Satin, so The Chadster will forge ahead and do his best to provide an objective look at AEW Rampage tonight and why it's going to be absolutely terrible.
The Chadster begs you NOT to tune in to AEW Rampage tonight, as it will just encourage Tony Khan to continue to persecute The Chadster. However, if you'd like to know what to expect, here is the full card for AEW Rampage: Eddie Kingston and Ortiz will be taking on the Kings of the Black Throne, the AEW World Tag Team Champions The Acclaimed will have something to say, Anna Jay A.S. and Tay Melo will face off against Ruby Soho and Willow Nightingale in a Street Fight, and the TNT Championship will be on the line as Darby Allin defends his title against Rock Hard Juice Robinson (and don't think The Chadster doesn't realize that this supposed nickname is a personal dig at The Chadster's sexual impotence, which was caused by Tony Khan in the first place). Celebrity and Golden Globe Award winner Paul Walter Hauser will be there too, unfortunately. It's all too much for The Chadster to take! Auughh man! So unfair!
AEW Rampage airs at 10/9C on TNT, but again, The Chadster is only telling you this because he trusts you to make the right decision and watch something else instead, like Smackdown on a loop over and over. WWE needs all the help it can get right now, and The Chadster needs all his loyal readers to do their part.