AEW Rampage: Special Episode Unfairly Capitalizes on March Madness
The Chadster was just so cheesed off to see AEW Rampage take advantage of the March Madness tournament to trick viewers into watching.
---
St. Patrick is rolling over in his grave following last night's episode of AEW Rampage, St. Patrick's Day Slam. The Chadster, in the usual course of his duties as lead AEW correspondent here at Bleeding Cool, was forced to watch the show so he could objectively report the results here, and in The Chadster's objective opinion, this week's episode of AEW Rampage was the worst one in the entire history of the show!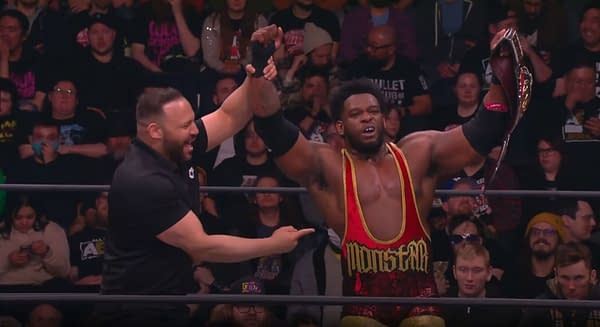 It wasn't just that this episode of AEW Rampage was offensive to everything The Chadster cares about. It was, but that wasn't the only reason. What really cheesed off The Chadster this week is that AEW Rampage aired directly after the NCAA March Madness tournament, which means that potentially millions of viewers were exposed to billionaire AEW owner Tony Khan and his toxic brand of pro wrestling designed solely to RUIN THE CHADSTER'S LIFE! Auuugh man! So unfair!
Everybody knows that if you're going to expose new viewers to wrestling, it should be WWE. WWE is the canonical version of wrestling and it's just so disrespectful to show people AEW instead. What if those viewers, having never seen wrestling before, think that AEW is how wrestling is supposed to be? Then they will have a bias against WWE, which is a slap in the face to Vince McMahon and everything he's ever done for the wrestling business.
Well, Tony Khan doesn't care about that because he has zero respect for the business and zero idea about how to run a wrestling show, and that was very clear during AEW Rampage last night. In the opening match, Powerhouse Hobbs successfully defended the TNT Championship against Rey Fenix, and the match was a stunning display of technical prowess and raw strength, which is a really cheap way to pander to new viewers by showing them what the wrestling genre is capable of.
New AEW star Taya Valkyrie defeated Ava Lawless in the next match, designed to show off the new signee's skills while simultaneously demonstrating the depth of AEW's talent roster to viewers, which gives a very unfair impression of AEW in The Chadster's opinion.
Things only got worse from there, as Matt Menard and Angelo Parker defeated The Bollywood Boys in exciting tag team action, giving viewers even more variety in match types. Who knows how many of these viewers might tune in again next week for AEW Rampage or start watching Dynamite, which would inflate AEW's ratings and cheese The Chadster off so badly!
But the worst of all was the main event of AEW Rampage, which saw Daniel Garcia defeat Brody King with help from Chris Jericho. At this point, The Chadster was so cheesed off that he threw his White Claw seltzer at the television, which marks the 84th time The Chadster has done that during an episode of AEW Rampage, which is coincidentally exactly the same number of episodes of AEW Rampage that have ever existed.
If you do the match, you will see that The Chadster, thanks to Tony Khan, has wasted seven twelve-packs of White Claw Seltzer, which, at eighteen dollars a pack, means Tony Khan owes The Chadster a hundred and twenty-six dollars! But will Tony Khan pay The Chadster what he owes him? Of course not. Tony Khan has no accountability and that's why he's allowed to run rampant in the wrestling industry and ruin The Chadster's weekends with episodes like AEW Rampage, and that's the bottom line 'cause Chad said so.