Agents of SHIELD Season 5, Episode 9 Recap: Best Laid Plans
This article contains spoilers for the Marvel's Agents of SHIELD season five episode – Best Laid Plans.
.
.
.
.
.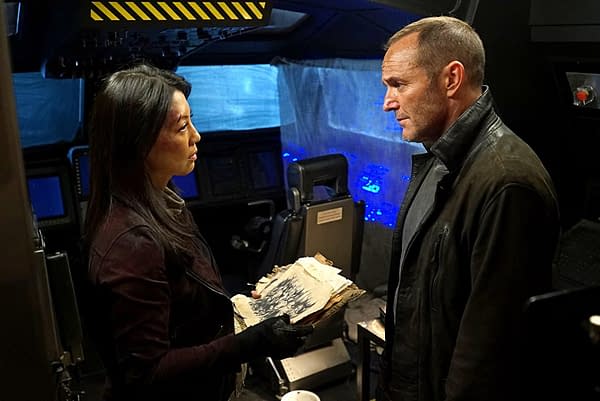 The team is split in two and so is the action. Coulson, Daisy and their group are on Zephyr One trying to survive a gravity storm and get back to the Lighthouse while Mack and Yo-Yo are on the Lighthouse trying to free the humans from the Kree rule only to find out that Kasius has though ahead.
A lot of little things happen here. Fitz (Iain De Caestecker) and Simmons (Elizabeth Henstridge) figure out that they do indeed go back in time and modify Zephyr One to work with gravitonium (Season 1 flashback), allowing it to fly without engines. But getting away from what's left of Earth is difficult and May (Ming-Na Wen) has to shake the ship back and forth by turning on and off the gravity… while Daisy (Chloe Bennet) and Deke (Jeff Ward) end up in a fight with Sinara (Florence Faivre). Though she is without her powers, Daisy is able to kill Sinara by running a piece of broken railing through her midsection. Zephyr One gets free and heads towards the Lighthouse. Enoch (Joel Stoffer) is rather entertaining here, seemingly all doom and gloom against Coulson (Clark Gregg) who is optimistic as always.
On the Lighthouse, Mac (Henry Simmons) is having a hard time keeping Yo-Yo (Natalia Cordova-Buckley), Flint (Coy Stewart) and the rest of the humans from just attacking Kasius (Dominic Rains). The Kree ruler resurrects Tess (Eve Harlow) and sends her with a message that Kasius can end their life with a flick of a button. This leads Mac to look for and find a series of explosives set up through out the levels. They can't be collected and detached from the remote trigger, so they move them down levels and the humans up. Then Mac and Yo-Yo meet face-to-face with Kasius and goad him into pressing the button… blowing up a bunch of empty levels. Mac then blows up the technology Kasius needs to breed more Inhumans… and then her and Yo-Yo disappear, leaving an extremely angry Kree behind.
Zephyr One gets in touch with Mac and head in for a landing. We then cut to a Kree going to report the ship's return to Kasius who already knew it was happening. Turns out, Kasius has one of his own 'seers' that told him the ship was coming.
Next week, The team has one final chance to return to their timeline, but their actions may have deadly consequences. There has been a lot of talk that we'll lose someone and folks keep looking at either Mac or Yo-Yo. Have to say the preview doesn't do anything to dissuade those rumors.